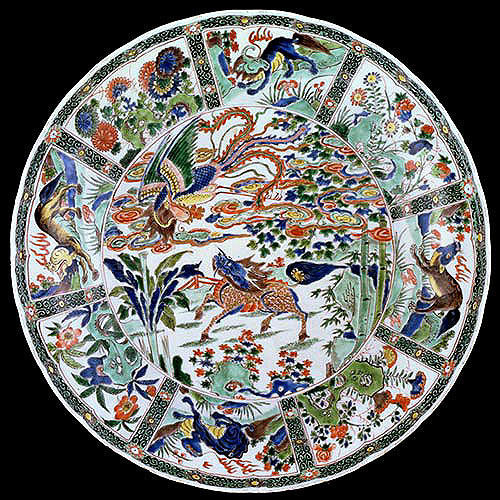 Deep plate. China, Qing dynasty, Kangxi period (1662-1722). White porcelain with famille verte enamels. Diam. 36.3 cm. Inv. no. 961. Museu Calouste Gulbenkian © 2008 Fundação Calouste Gulbenkian
The complex and dense decorative pattern on this deep plate, made in extremely fine porcelain with a transparent glaze, uses brilliant enamels from thefamille vert: green (the dominant colour), iron red, aubergine, brown and blue, and with gold applications.

The centre depicts mythological beasts, stylised clouds, rocks, bamboo and other plants. A large phoenix, the second of the four Chinese supernatural creatures, is flying above a qilin that seems to be challenging it. Theqilin is the third of the beings and symbolises sweetness, kindness, happiness, illustrious ancestry, truth and wise government. In this late period of the Qing dynasty, these two beings were associated to protection, veneration, tradition and good fortune.
The eight panels that decorate the well have alternate images of exotic beasts and flowers, with particular reference to chrysanthemums.
Provenance: Bought from S. Gorer & Son, London, on December 12, 1907.
Bibliography: Lisbon 2001
Calouste Gulbenkian Museum – Album, Lisbon, Calouste Gulbenkian Foundation, 2001, p. 76, no. 54, colourpl.

Goffen 1995
Rona Goffen (ed.) – Museums discovered: The Calouste Gulbenkian Museum, Fort Lauderdale, Florida, 1995, pp. 194-195, colourpl.