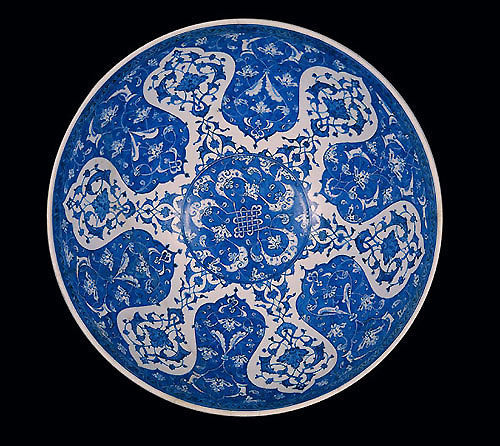 Footed bowl. Turkey, Iznik, c. 1510. Fritware, painted underglaze. H. 22; Diam. 42 cm. Inv. no. 211. Museu Calouste Gulbenkian © 2008 Fundação Calouste Gulbenkian
Probably used for ritual ablutions, this bowl is one of the more remarkable creations from the Iznik potteries and its decoration presents clear evidence of the influence of Chinese porcelain.

The exterior has hatayi-type decoration with garlands of stylised flowers of Chinese inspiration in blue on a white ground. Inside, around a central medallion, with cloud scrolls and knots, there are six lobed panels in a radial composition filled with rumi decoration, arabesques on a white ground with alternating panels in white on blue.
These decorative elements allied with the chromatic range characterise Iznik production between 1510 and 1520, a time when it was undergoing a period of great vitality, that lasted until the end of the 16th century, thanks to the patronage of the Ottoman court, which ensured the commissioning of quality pieces.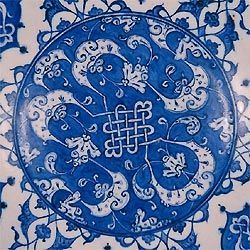 Provenance: Brouwer, Nice; bought from Pollak, Paris, February 22, 1929.
Bibliography: Lisbon 2001
Calouste Gulbenkian Museum – Album, Lisbon, Calouste Gulbenkian Foundation, 2001, pp. 46-47, no. 29, colourpls.

New York 1999
"Only the Best". Masterpieces of the Calouste Gulbenkian Museum, Lisbon, exhibition catalogue, Katharine Baetjer e James David Draper (eds.) – New York (The Metropolitan Museum of Art), 1999, pp. 60-61, no. 25, colourpl.

Queiroz Ribeiro 1996
Maria Queiroz Ribeiro – Louças Iznik / Iznik Pottery, Lisboa, Museu Calouste Gulbenkian, 1996, pp. 92-93, no. 1, ils.

Seville 1992
Arte y cultura en torno a 1492, Seville, Seville Universal Exhibiiton, 1992, no. 5

Atasoy 1989
N. Atasoy e J. Raby – Iznik. The Pottery of Ottoman Turkey, London, Alexandria Press, 1989, no. 292, colourpl.