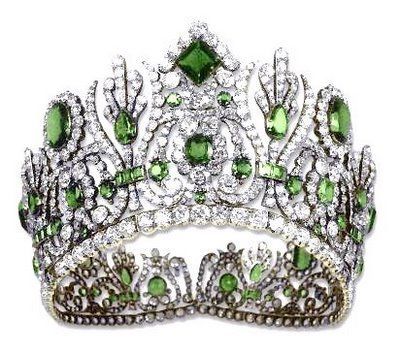 Marie-Louise Emerald and Diamond Diadem ©Van Cleef & Arpels
A gift from Napoleon Bonaparte to Marie Louise (his second wife and niece of Marie~Antoinette) on the occasion of their wedding, this incredible Diadem was just one component in the parure, or suite of jewelry, given to her that day. The components of the exquisite Emerald and Diamond parure of Empress Marie-Louise are an Emerald and Diamond Diadem, an Emerald and Diamond Necklace, a pair of Emerald and Diamond Earrings, an Emerald and Diamond Comb, and an Emerald Belt Clasp.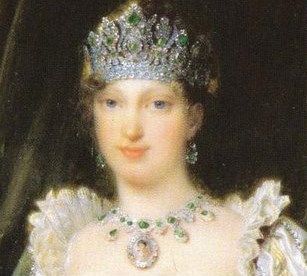 Marie~Louise wearing the diadem ~Source the Napoleon Diaries
The parure was designed and executed by the renowned Parisian jewelers Etienne Nitot et fils. It consisted of 138 emeralds, 382 rose~cut diamonds and 2,162 brilliant~cut diamonds. This diadem (not a tiara because it is fully circular and a tiara is not) was allowed to be partially dismantled (it was purchased by Van Cleef & Arpels) and its emeralds re-set in other jewelry settings. However, the original framework of the tiara has been preserved, the emeralds being replaced by turquoise but the diamonds remain original.
The diadem is currently on display at the Smithsonian.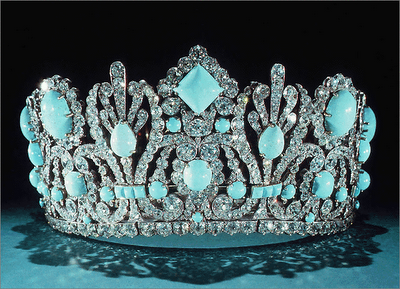 The partially modified diadem ©Van Cleef & Arpels