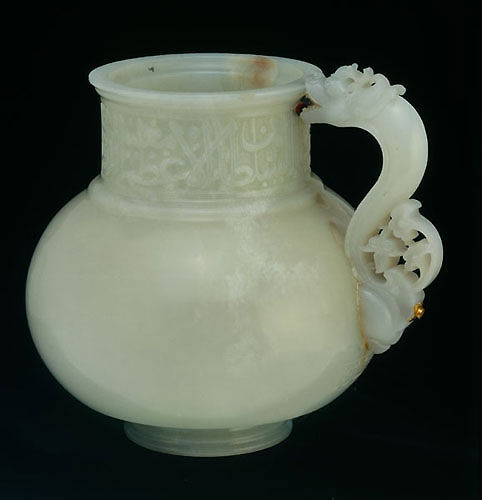 Jar. Central Asia (Samarqand), Timurid period, 1417–49. White jade (nephrite). H. 14.5 cm; Diam. 16 cm. Inv. no. 328. Museu Calouste Gulbenkian © 2008 Fundação Calouste Gulbenkian
This jug, produced in Samarqand, is considered to be one of the most famous pieces of jade from the Timurid period (1378-1506), specifically from the time of Ulugh Beg, a great patron of the arts and sciences. The dragon on the handle was a recurrent motif in Timurid art and reveals the influence of Chinese art. The relief inscription on the neck records the name and titles of Ulugh Beg, the son of Shah Rukh and grandson of Timur (Tamerlane). Ulugh Beg was the governor of Turkestan, Transoxiana and Samarqand, the capital of the Central Asia province, as from 1409 and ruling prince from 1447 (when his father died) until 1449.

Around 1613, the jug became part of the treasure of the Mughal emperor Jahangir, whose name and titles were carved around the rim. It later passed to his son Shah Jahan, whose name and titles can be seen below the handle.
Jade, which was considered to be a noble stone with magical powers in both and Middle and Far East, came from the Kunlun mountains, west of Samarqand, now part of the Chinese province of Xianjiang.
Provenance: Bought through Duveen, Christie's sale, on July 19, 1927 (no. 143).
Bibliography: Lisbon 2001
Calouste Gulbenkian Museum – Album, Lisbon, Calouste Gulbenkian Foundation, 2001, p. 38-39, no. 22, colourpl.

New York 1999
"Only the Best". Masterpieces of the Calouste Gulbenkian Museum, Lisbon, exhibition catalogue, Katharine Baetjer e James David Draper (eds.) – New York (The Metropolitan Museum of Art), 1999, pp. 20-21, no. 3, colourpl.

Grube 1997
Ernst J. Grube – "The World is a Garden", in: First Under Heaven. The Art of Asia, Jill Tilden (ed.), London, 1997, pp. 8-25 (pp. 16-18, fig. 13)

Goffen 1995
Rona Goffen (ed.) – Museums discovered: The Calouste Gulbenkian Museum, Fort Lauderdale, Florida, 1995, pp. 166-167, colourpl.