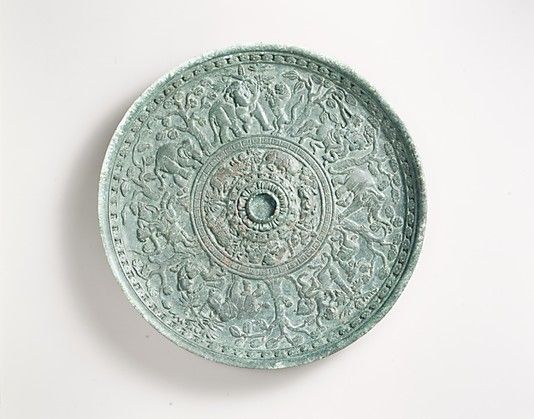 Footed Dish with Riders Hunting Lions, Elephants, and Deer. Vietnam (Champa), ca. 8th century © 2000–2012 The Metropolitan Museum of Art.
Bronze. Diam. 11 1/16 in. (28.1 cm). Purchase, Friends of Asian Art Gifts, 1999. Accession Number: 1999.261.
The mount in the central lotus flower of this extraordinary plate probably once had an inset jewel. It is surrounded by a narrow band of sculpted animals, including a rhinoceros and a lion attacking a deer, which are enclosed in a larger outer register of low-relief scenes of animated forest hunts. One of the hunters uses a spear, another a sword, and the last a bow. The latter executes a Parthian shot by aiming backward in the direction from which he has come. The Chamspeaking people who lived in southern Vietnam were important rivals of the pre-Angkor and later Angkor kingdoms of Cambodia.