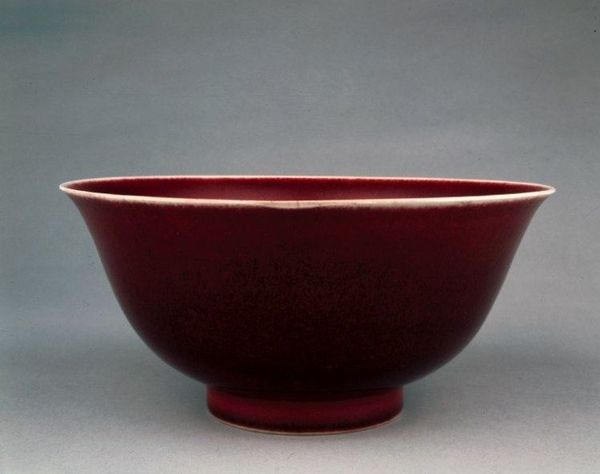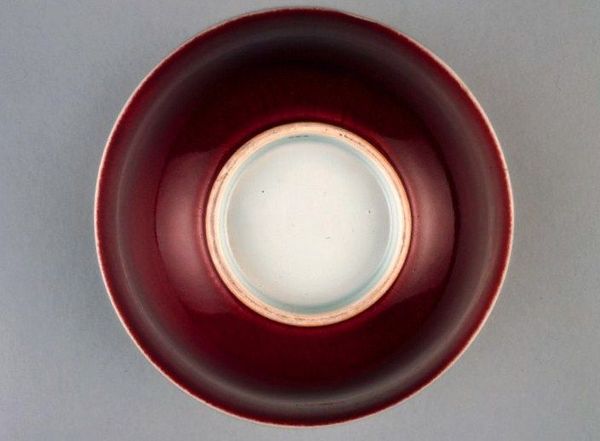 Bowl. Porcelain with incised design and copper-red glaze. Jingdezhen, Jiangxi province江西省, 景德鎮. Ming dynasty, Yongle period, AD 1403–24. On loan from Sir Percival David Foundation of Chinese Art. PDF 585 © Trustees of the British Museum
Height: 97 mm-Diameter: 207 mm. Porcelain bowl with rounded sides and slightly flared rim. The bowl has rich dark copper red glaze, bluish-white at the rim. There are traces of incised lotus panels around the base. There is a bluish white glaze on the base and inner wall of foot-ring.

'Sacrificial', fresh or deep red monochrome-glazed porcelain of the Yongle and Xuande era represents the peak of technical achievement at Jingdezhen. As vessels ordered for ritual use by the early fifteenth century Ming emperors, they enjoy a status above that of other porcelains. The skills used to create these extraordinary red glazes were lost in China from the mid-fifteenth century until they were rediscovered in the late seventeenth and early eighteenth centuries. The glaze has 'crept' at the rim of the bowl to reveal the pure whiteness of the porcelain body. This Yongle example has incised stylised lotus lappets around the foot ring. The glassy glaze is covered in tiny pin prick holes like skin pores and the colour possesses an incredible powdery depth, yielding layer upon layer of strong red shades of colour.
Bibliographic reference: Medley, Margaret, Volume 7: Percival David Foundation of Chinese Art, 7 of 12, Tokyo, Kodansha ltd, 1975
Oriental Ceramic Society, The Ceramic Art of China, London, 1971
Medley, Margaret, Illustrated Catalogue of Ming and Ch'ing Monochrome in the Percival David Foundation of Chinese Art, London, University of London, Percival David Foundation of Chinese Art, School of Oriental and African Studies, 1973
Krahl, Regina; Harrison-Hall, Jessica, Chinese Ceramics: Highlights of the Sir Percival David Collection, London, BMP, 2009
Scott, Rosemary, Illustrated Catalogue of Ming and Qing Monochrome Wares in the Percival David Foundation of Chinese Art, London, University of London, Percival David Foundation of Chinese Art, School of Oriental and African Studies, 1989