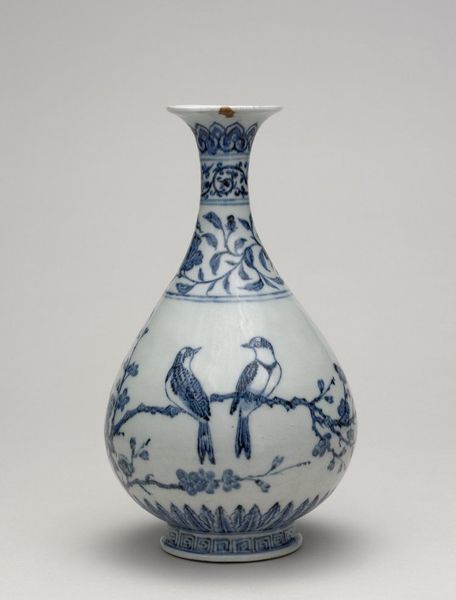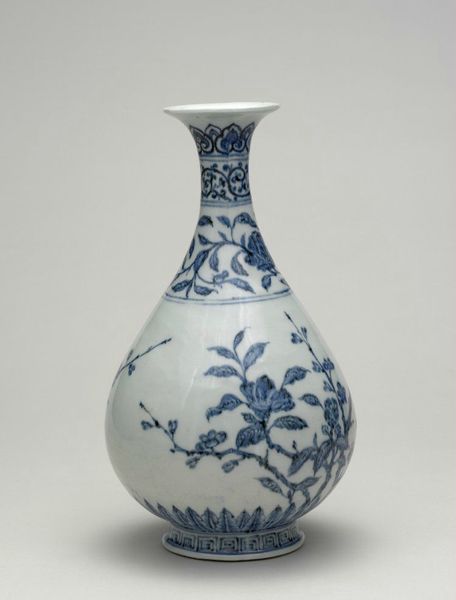 Blue-and-white bottle with a pair of birds. Porcelain with underglaze cobalt-blue decoration. Jingdezhen, Jiangxi province江西省, 景德鎮. Ming dynasty, Yongle period, AD 1403–24. On loan from Sir Percival David Foundation of Chinese Art. PDF C503 © Trustees of the British Museum
Height: 335 mm. Diameter: 186 mm. Porcelain bottle of yuhuchun ping form with flaring mouth rim. Underglaze blue with two song birds on a flowering prunus branch. Bands of scrolling flowers and scrolls on neck. Ruyi heads just below mouth rim, squared spirals on the foot and plantain leaves rising from the base.
Following the earlier Yuan tradition, the decoration of this 玉壺春瓶 (yuhuchun ping 'bottle') is divided into horizontal bands with the most important scene around the centre. It is beautifully painted with two birds turning towards each other, perched on a flowering prunus branch which encircles its sides. Craftsmen used imported cobalt which fired unevenly, giving shades of blue ranging from pale blue to almost black, resulting in a "heaped and piled" effect. There are dense areas, lightly applied areas and parts such as the birds tummies left white with just a blue outline.
Provenance: Wu Lai-hsi Collection, Peking
Bibliographic reference: Medley, Margaret, Volume 7: Percival David Foundation of Chinese Art, 7 of 12, Tokyo, Kodansha ltd, 1975
Pierson, Stacey, Designs as Signs: Decoration and Chinese Ceramics, London, Percival David Foundation, 2001
Medley, Margaret, Illustrated Catalogue of Underglaze Blue and Copper Red Decorated Porcelains, London, University of London, Percival David Foundation of Chinese Art, School of Oriental and African Studies, 1976
Pierson, Stacey, Illustrated Catalogue of Underglaze Blue and Copper Red Decorated Porcelains in the Percival David Foundation of Chinese Art, London, University of London, Percival David Foundation of Chinese Art, School of Oriental and African Studies, 2004
Pierson, Stacey, Blue and White for China: Porcelain Treasures in the Percival David Collection, London, Percival David Foundation, 2004
Krahl, Regina; Harrison-Hall, Jessica, Chinese Ceramics: Highlights of the Sir Percival David Collection, London, BMP, 2009