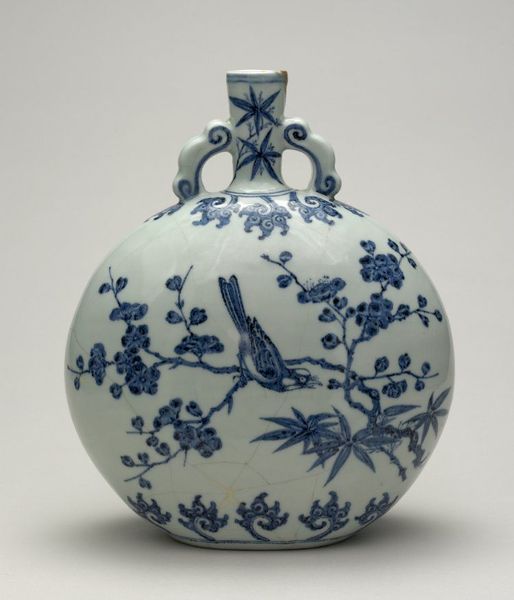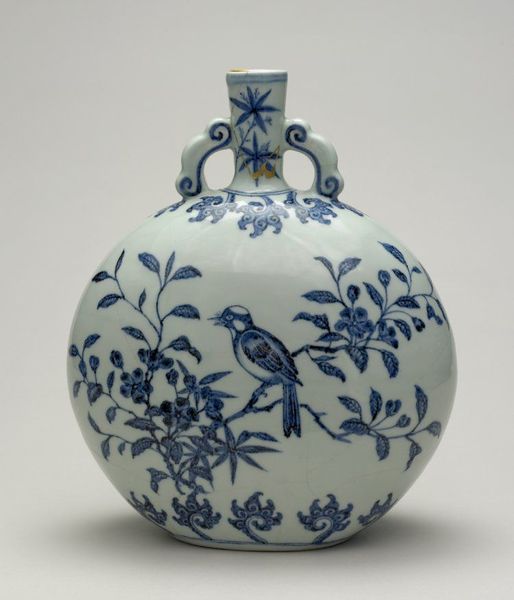 'Moon' flask with birds and flowering branches. Porcelain with underglaze cobalt-blue decoration; Jingdezhen, Jiangxi province 江西省, 景德鎮. Ming dynasty, Yongle period, AD 1403–24. On loan from Sir Percival David Foundation of Chinese Art. PDF A612 © Trustees of the British Museum
Height: 308 mm. Width: 254 mm. Depth: 150 mm. Porcelain flask of baoyueping form with two cloud-shaped handles attached at the sides of the neck. Underglaze blue scene of a song bird on a flowering prunus branch on one side and a peach branch on the other. Stylised flower sprays on neck.

This 抱月瓶 (bao yue ping 'moon flask') has a flattened circular body, cylindrical neck and cloud-shaped handles. Under strict court supervision, potters painted a design of a bird perched on a winter-flowering prunus branch (without leaves) on one side and on the other side is a second bird on a different flowering branch accompanied by bamboo. Such designs appear on contemporary early Ming small format fan paintings and album leaves.
Previous owner/ex-collection Hon Mountstuart William Elphinstone
Bibliographic reference: Medley, Margaret, Volume 7: Percival David Foundation of Chinese Art, 7 of 12, Tokyo, Kodansha ltd, 1975
Medley, Margaret, Illustrated Catalogue of Underglaze Blue and Copper Red Decorated Porcelains, London, University of London, Percival David Foundation of Chinese Art, School of Oriental and African Studies, 1976
Pierson, Stacey, Illustrated Catalogue of Underglaze Blue and Copper Red Decorated Porcelains in the Percival David Foundation of Chinese Art, London, University of London, Percival David Foundation of Chinese Art, School of Oriental and African Studies, 2004
Scott, Rosemary, Imperial Taste - Chinese Ceramics from the Percival David Foundation of Chinese Art, Los Angeles County Museum of Art and Percival David Foundation of Chinese Art, 1989
Krahl, Regina; Harrison-Hall, Jessica, Chinese Ceramics: Highlights of the Sir Percival David Collection, London, BMP, 2009