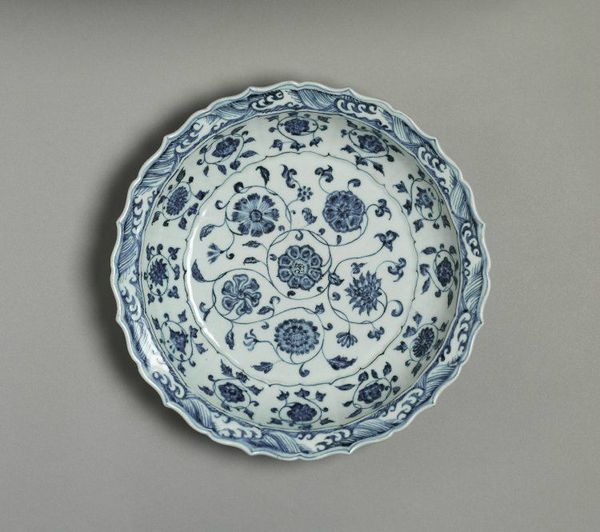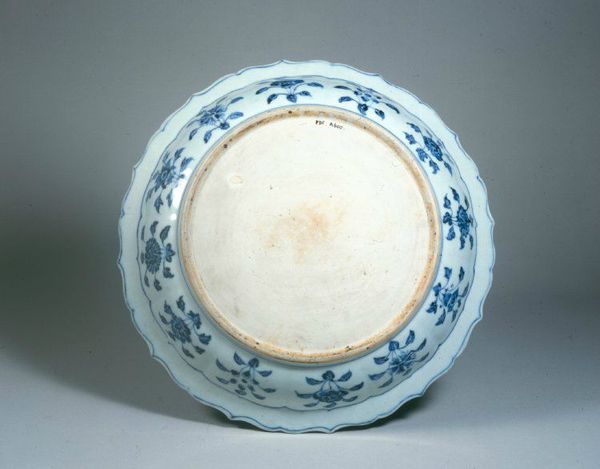 Large serving dish with composite flower scroll. Porcelain with underglaze cobalt-blue decoration. Jingdezhen, Jiangxi province 江西省, 景德鎮. Ming dynasty, Yongle reign, AD1403–1424. On loan from Sir Percival David Foundation of Chinese Art. PDF A610 © Trustees of the British Museum
Height: 62 mm. Diameter: 343 mm. Large porcelain dish. Underglaze blue with scrolling flower heads inside and outside. Unglazed base.

Potters working at Jingdezhen used a blue-generating cobalt pigment imported from the Middle East or Central Asia at this time. It diffuses in patches through the transparent glaze and after cooling appears black where it has burnt through the glaze and pale blue where it is thin. Serving dishes of this type were exported to Southeast Asia, India and the Middle East. These dishes were more suited to foreign dining than Chinese cuisine, which requires a variety of smaller bowls and containers. This example is decorated with a composite flower scroll in the centre.
From the Elphinstone Collection
Bibliographic reference: Medley, Margaret, Volume 7: Percival David Foundation of Chinese Art, 7 of 12, Tokyo, Kodansha ltd, 1975
Medley, Margaret, Illustrated Catalogue of Underglaze Blue and Copper Red Decorated Porcelains, London, University of London, Percival David Foundation of Chinese Art, School of Oriental and African Studies, 1976
Pierson, Stacey, Illustrated Catalogue of Underglaze Blue and Copper Red Decorated Porcelains in the Percival David Foundation of Chinese Art, London, University of London, Percival David Foundation of Chinese Art, School of Oriental and African Studies, 2004
Pierson, Stacey, Blue and White for China: Porcelain Treasures in the Percival David Collection, London, Percival David Foundation, 2004