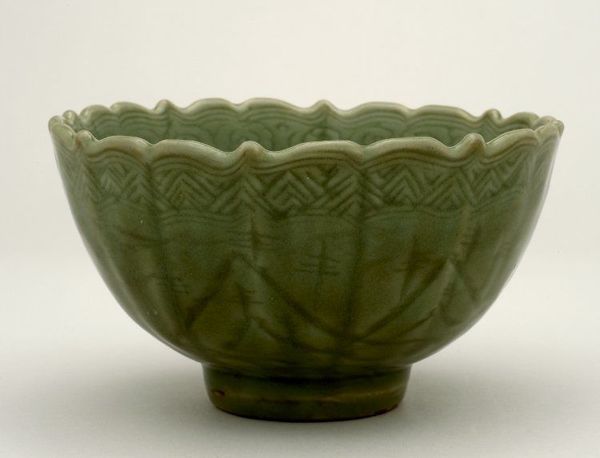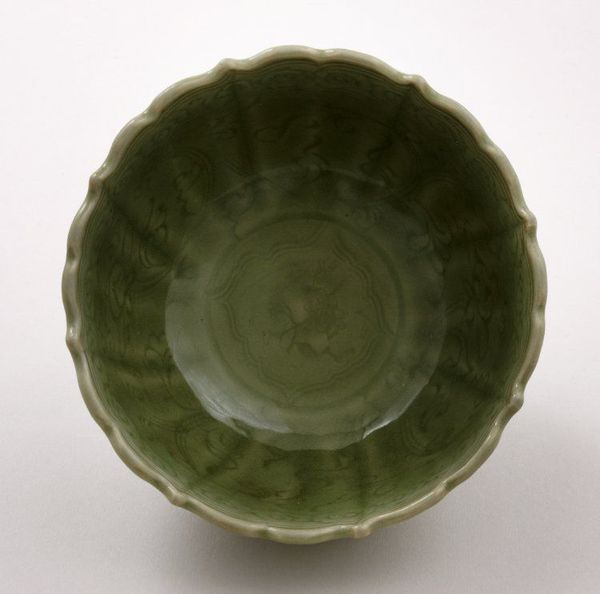 Lobed bowl. Stoneware, porcelain-type, with impressed and incised decoration and celadon glaze. Longquan ware 龍泉窯. Longquan region, Zhejiang province 浙江省, 龍泉地區. Ming dynasty, about AD 1403–87. On loan from Sir Percival David Foundation of Chinese Art. PDF 274 © Trustees of the British Museum
Height: 98 mm. Diameter: 173 mm. Longquan stoneware multi-lobed bowl with rounded sides. The bowl has transparent green glaze. There is a floral motif in the centre, a floral scroll around the sides, a cursive scroll at the rim, and an abstract landscape carved on exterior with chevron band at the rim.

This bowl has a bracket-lobed rim. It is carved outside with a stylised landscape design with trees and mountain peaks. Inside is an impressed floral medallion in the centre and with floral scrolls around the sides. It relates to porcelains made at Jingdezhen in the 15th century.
Bibliographic reference: Medley, Margaret, Volume 7: Percival David Foundation of Chinese Art, 7 of 12, Tokyo, Kodansha ltd, 1975
Medley, Margaret, Illustrated Catalogue of Celadon Wares in the Percival David Foundation of Chinese Art, London, University of London, Percival David Foundation of Chinese Art, School of Oriental and African Studies, 1977
Pierson, Stacey, Illustrated Catalogue of Celadon Wares in the Percival David Foundation of Chinese Art, London, University of London, Percival David Foundation of Chinese Art, School of Oriental and African Studies, 1997