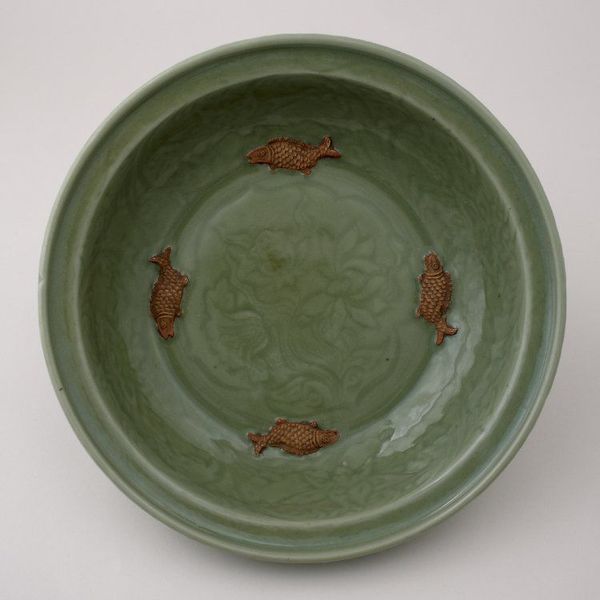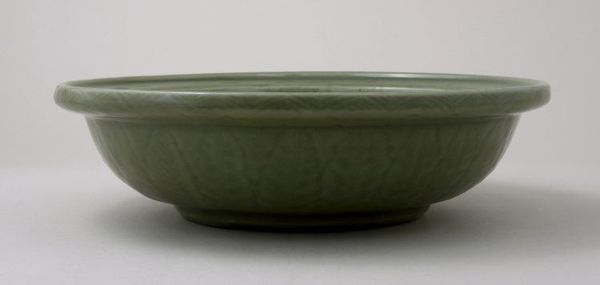 Dish with four fishes. Stoneware, porcelain-type, with incised and applied biscuit-fired decoration and celadon glaze. Longquan ware 龍泉窯. Longquan region, Zhejiang province 浙江省, 龍泉地區. Ming dynasty, AD 1403–35. On loan from Sir Percival David Foundation of Chinese Art. PDF 240 © Trustees of the British Museum
Height: 89 mm. Diameter: 318 mm. Longquan porcelain dish with flattened mouth rim, and thick inclined foot rim. The dish has a grey-green glaze. There is a lotus spray in the centre surrounded by a scroll, and four unglazed fish around the interior.

Yuan potters used a new technique to decorate this Longquan dish, creating a design with contrasting orangey-red unglazed (biscuit-fired) areas against rich green glaze. First, they incised aspects of the design, such as the flowers and then covered the whole dish in glaze except for a broad ring on the base, which was left to accommodate a kiln support. Next they applied designs from clay which had been rolled out thin like pastry and pressed-out using small carved moulds. This technique used to apply the four swimming fish is called sprig-moulding.
Bibliographic reference: Medley, Margaret, Volume 7: Percival David Foundation of Chinese Art, 7 of 12, Tokyo, Kodansha ltd, 1975
Medley, Margaret, Illustrated Catalogue of Celadon Wares in the Percival David Foundation of Chinese Art, London, University of London, Percival David Foundation of Chinese Art, School of Oriental and African Studies, 1977
Pierson, Stacey, Illustrated Catalogue of Celadon Wares in the Percival David Foundation of Chinese Art, London, University of London, Percival David Foundation of Chinese Art, School of Oriental and African Studies, 1997