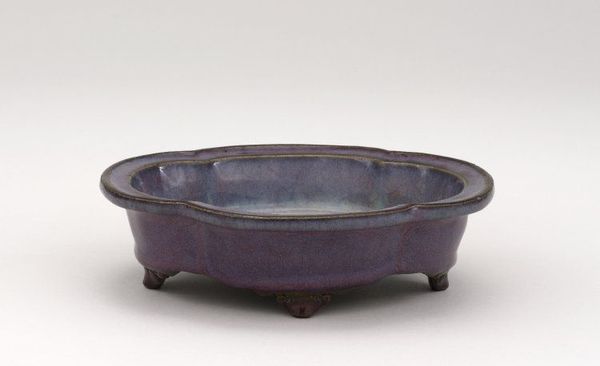 Lobed flower pot stand. Stoneware body covered in blue and purple glazes with olive-green on base. Numbered or Official Jun ware 官鈞窯. Juntai, Yuxian, Henan province 河南省, 禹縣, 鈞台. Ming dynasty, about AD 1368–1435. On loan from Sir Percival David Foundation of Chinese Art. PDF 38 © Trustees of the British Museum
Height: 51 mm. Width: 170 mm. Depth: 136 mm. Official Jun stoneware flower pot stand of elongated quatrefoil shape, with flattened rim with narrow raised band at edge, lobed sides, and four cloud-shaped feet. The stand has blue glaze coloured purple with in-glaze copper pigment. There is an inscription, and eleven small spur marks, on the base.

The base of this flower pot stand has eleven small spur marks and the character 九 (jiu 'nine') incised before firing and two further inscriptions inscribed later. The inscriptions read 養心殿 (Yangxin Dian 'Hall of Mental Cultivation') and 明 窓 (窗) 用 (Mingchuang yong 'For use in the Study of Illumination'). These inscriptions were most likely engraved in the early eighteenth century and indicate where the flower pot stand was then used then. The 'Hall of Mental Cultivation' was where both the Yongzheng (AD1723–35) and Qianlong (AD 1736–95) Emperors resided within the Forbidden City.
Acquisition notes: From the McKinnon Wood Collection
Bibliographic reference: Hobson, Robert L, A Catalogue of Chinese Pottery and Porcelain in the Collection of Sir Percival David Bt., F.S.A., London, The Stourton Press, 1934
Yorke Hardy, Sheila, Tung, Ju, Kuan, Chun, Kuang-tung & Glazed I-hsing Wares in the Percival David Foundation of Chinese Art, London, University of London, Percival David Foundation of Chinese Art, School of Oriental and African Studies, 1953
Pierson, Stacey, Illustrated catalogue of Ru, Guan, Jun, Guangdong and Yixing wares in the Percival David Foundation of Chinese Art, London, University of London, Percival David Foundation of Chinese Art, School of Oriental and African Studies, 1999