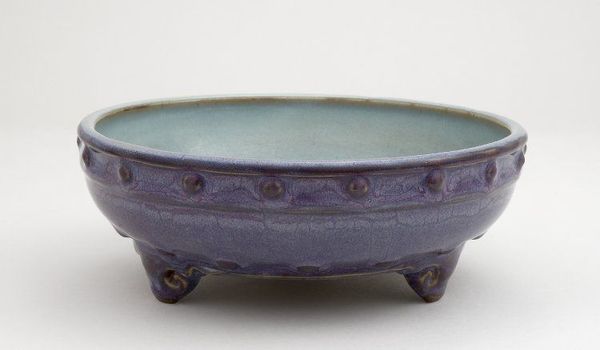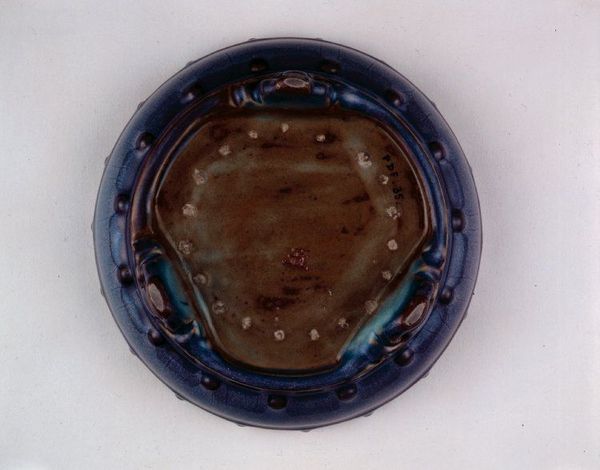 Bulb bowl. Stoneware body covered in blue and purple glazes with olive-green on base. Numbered or Official Jun ware 官鈞窯. Juntai, Yuxian, Henan province 河南省, 禹縣, 鈞台. Ming dynasty, about AD 1368–1435. On loan from Sir Percival David Foundation of Chinese Art. PDF 35 © Trustees of the British Museum
Height: 71 mm. Diameter: 190 mm. Diameter: 141 mm (base). Official Jun stoneware flower pot stand in form of shallow bowl with an inverted rim, a band of raised bosses under the rim and above the feet, and three cloud-shaped feet. The stand has thick blue glaze on the interior and a blue glaze with all-over-in-glaze copper pigment on the exterior. The glaze has split in several places on the interior of the bowl leaving 'earthworm marks'. There is an inscription, and nineteen large spur marks on the base.

This bulb bowl has studs around the rim and cloud-shaped feet. Its base has a ring of uneven spur marks and the Chinese character 五 (wu 'five') incised in the base before firing. It has been suggested that the numbers refer to sizes, with one the largest and ten the smallest size, which would help to match flower pots and stands. Unlike earlier Jun wares, which are often highlighted with contrasting purple splashes, these later wares feature blue or purple opalescent glazes without splashes of contrasting colours. Furthermore in contrast to earlier Jun wares, these numbered flower vessels are shaped by moulding.
Bibliographic reference: Medley, Margaret, Volume 7: Percival David Foundation of Chinese Art, 7 of 12, Tokyo, Kodansha ltd, 1975
Hobsob, Robert L, A Catalogue of Chinese Pottery and Porcelain in the Collection of Sir Percival David Bt., F.S.A., London, The Stourton Press, 1934
Yorke Hardy, Sheila, Tung, Ju, Kuan, Chun, Kuang-tung & Glazed I-hsing Wares in the Percival David Foundation of Chinese Art, London, University of London, Percival David Foundation of Chinese Art, School of Oriental and African Studies, 1953
Pierson, Stacey, Illustrated catalogue of Ru, Guan, Jun, Guangdong and Yixing wares in the Percival David Foundation of Chinese Art, London, University of London, Percival David Foundation of Chinese Art, School of Oriental and African Studies, 1999