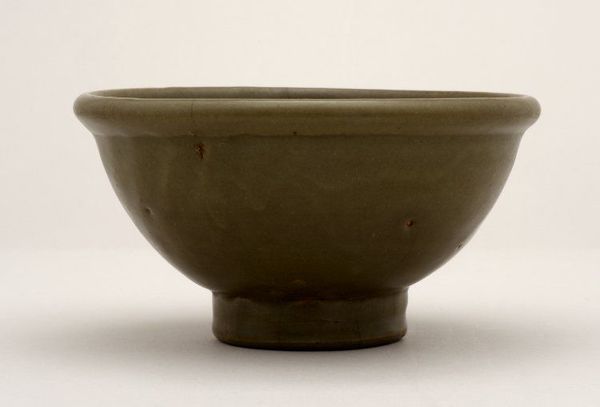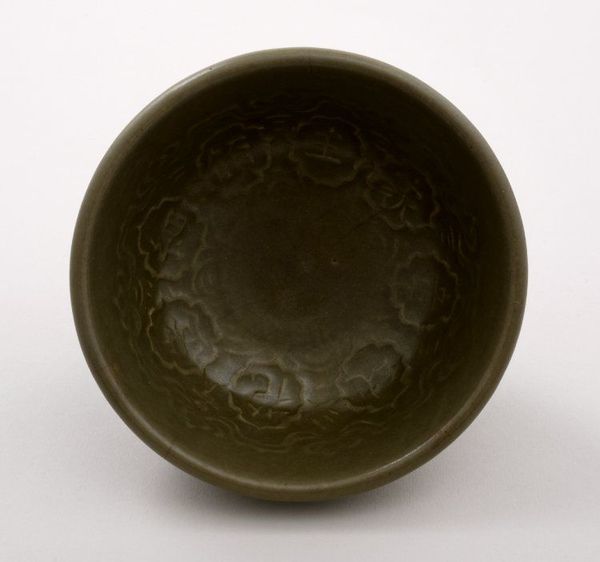 Bowl. Stoneware with moulded decoration and celadon glaze. Longquan ware 龍泉窯. Longquan region, Zhejiang province 浙江省, 龍泉地區. Ming dynasty, about AD 1368–1435. On loan from Sir Percival David Foundation of Chinese Art. PDF 299 © Trustees of the British Museum
Height: 83 mm. Diameter: 153 mm. Longquan stoneware bowl with thickened rim. The bowl has thick, matt grey-brown glaze. There is a vegetal band moulded on the interior above eight quatrefoil panels, each enclosing a Chinese character. There is an inscription on the interior.
The Chinese characters are incised in eight quatrefoil panels inside this bowl. Longquan wares with makers' names are extremely rare and the possibility of this being made at another kiln complex within Zhejiang can not be ruled out.
Bibliographic reference: Medley, Margaret, Illustrated Catalogue of Celadon Wares in the Percival David Foundation of Chinese Art, London, University of London, Percival David Foundation of Chinese Art, School of Oriental and African Studies, 1977
Pierson, Stacey, Illustrated Catalogue of Celadon Wares in the Percival David Foundation of Chinese Art, London, University of London, Percival David Foundation of Chinese Art, School of Oriental and African Studies, 1997