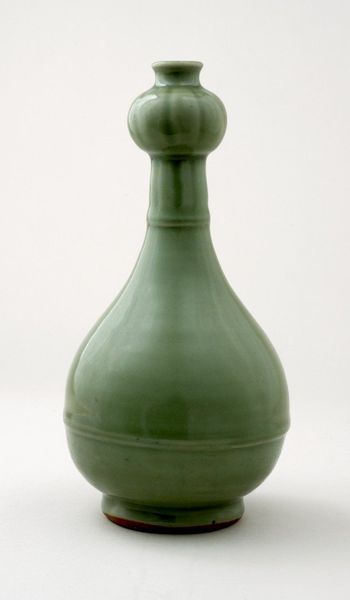 Vase of pear shape with bulbous head. Stoneware, porcelain-type, with carved decoration and celadon glaze. Longquan ware. 龍泉窯. Longquan region, Zhejiang province 浙江省, 龍泉地區. Ming dynasty, about AD 1368–1435. On loan from Sir Percival David Foundation of Chinese Art. PDF 299 © Trustees of the British Museum
Height: 260 mm. The vase has grey-green glaze. There are two parallel raised ribs around the body and on the base of the neck, with vertical grooves carved on the upper part of the neck.
This bottle is described as 'garlic mouthed' because of the bulge in the neck towards the mouth. Potters based the shape on Middle Eastern metalwork. The parallel raised ribs around the body and neck refer to joins in the original metalwork. It was covered in an olive-green glazed and fired on its foot ring.
Bibliographic reference: Medley, Margaret, Illustrated Catalogue of Celadon Wares in the Percival David Foundation of Chinese Art, London, University of London, Percival David Foundation of Chinese Art, School of Oriental and African Studies, 1977
Pierson, Stacey, Illustrated Catalogue of Celadon Wares in the Percival David Foundation of Chinese Art, London, University of London, Percival David Foundation of Chinese Art, School of Oriental and African Studies, 1997