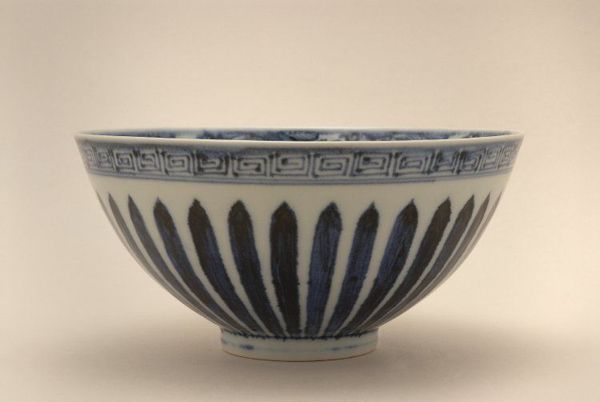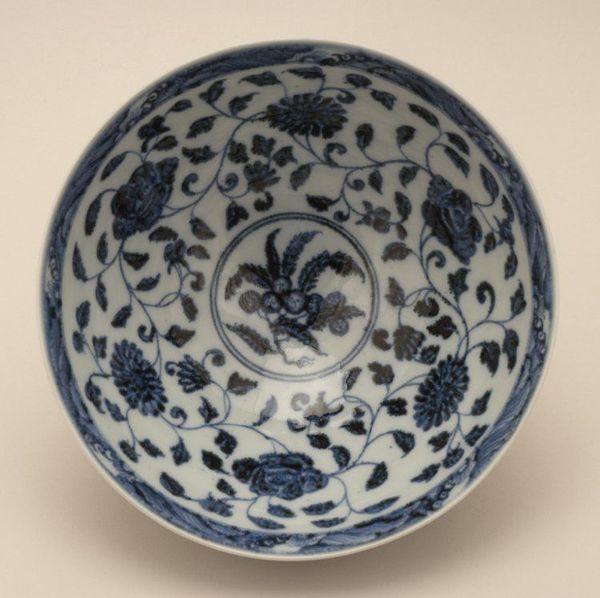 Lotus bud bowl with flowers. Porcelain with underglaze cobalt-blue decoration. Jingdezhen, Jiangxi province 江西省, 景德鎮. Ming dynasty, Yongle period, AD1403–1424. On loan from Sir Percival David Foundation of Chinese Art. PDF B637 © Trustees of the British Museum
Height: 102 mm. Diameter: 210 mm. Porcelain bowl. Underglaze blue with separated stylised lotus petals and band of squared spirals at the rim. Wide band of scrolling chrysanthemums and camellias inside , below narrow band of waves around inside rim. Central roundel with fruit spray.

The shape of this bowl was first used in the Yongle period (AD 1403–24). It is called a 蓮子(lianzi 'lotus bud') bowl and outside is painted with a design of lotus petals. Inside around a central fruit spray is a band of scrolling chrysanthemums and camellias with a narrow band of waves inside the rim.
Bibliographic reference: Medley, Margaret, Illustrated Catalogue of Underglaze Blue and Copper Red Decorated Porcelains, London, University of London, Percival David Foundation of Chinese Art, School of Oriental and African Studies, 1976
Pierson, Stacey, Illustrated Catalogue of Underglaze Blue and Copper Red Decorated Porcelains in the Percival David Foundation of Chinese Art, London, University of London, Percival David Foundation of Chinese Art, School of Oriental and African Studies, 2004