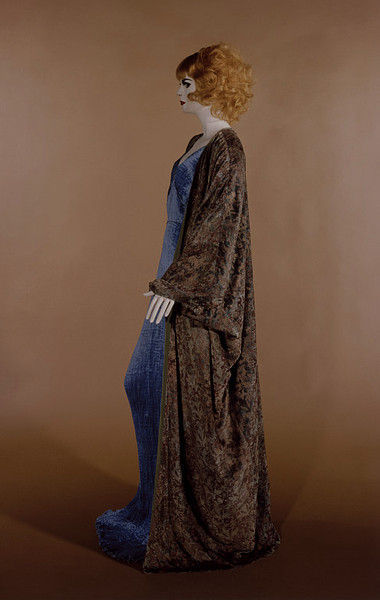 Mariano Fortuny, born 1871 - died 1949. Caftan of green/blue silk velvet printed with red metallic pigment, ca. 1920. Given by Fr. Sebastian Bullough. Museum number: T.732-1972. Victoria & Albert Museum, London © V&A Images
It is lined and faced with green corded silk and has a circular label at the centre back of the neck.
This gown belonged to the famous Italian actress Eleonora Duse (1858-1924), noted for her association with the poet and playwright Gabriele d'Annunzio. Duse was a great friend of the designer Mariano Fortuny (1871-1949) and was known for the fact that she used very little make-up in an age where acting demanded dramatic costumes and disguise. Duse was the first woman to appear on the cover of Time magazine in July 1923.
The multi-talented Fortuny was a painter, theatre designer, photographer, inventor and scientist. However, he is best known as a creator of extraordinary fabrics and clothes. His distinctive creations were worn by avant-garde beauties throughout the world from about 1910 to the 1930s.