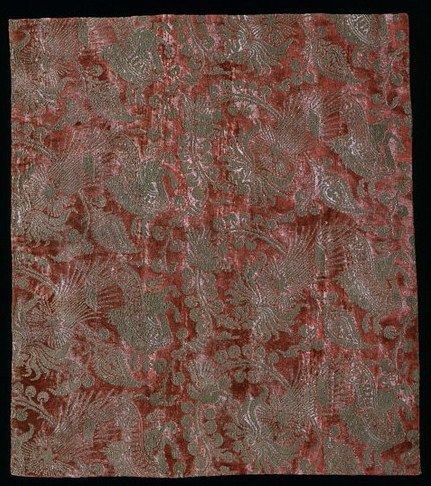 Mariano Fortuny, born 1871 - died 1949. Furnishing or dress fabric. Venice, Italy, 1927. Silk velvet. Given by J W F Morton & Courtaulds Ltd. Museum number: T.130-1977. Victoria & Albert Museum, London © V&A Images
Red and white mottled velvet ground printed in silver metallic pigment with an all-over pattern of leafing branches, rayed devices and prancing animals, based upon a 14th century Italian woven silk. Lined with beige silk repp and the circular stamp on silk repp.
Mariano Fortuny (Mariano y Madazo, 1871-1949) was born in Granada, Spain. He first studied painting, before moving to Paris to study sculpture with Rodin and then to Germany to study chemistry and dyes. He moved to Venice at the beginning of the 20th century and developed, and patented, processes for printing metal pigments onto fabrics in such a way that they imitated the textural effect of woven patterns. Fortuny drew his inspiration from historical fabrics, and based this design on a 14th/early 15th century North Italian silk.