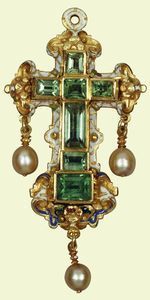 Emerald cross. 1575 to 1799. Acquired by Queen Mary before 1920. Emeralds, enamel, gold, pearls, 7.2 x 3.6 cm. RCIN 9051. The Royal Collection © 2012, Her Majesty Queen Elizabeth II.
Obverse: cross formed of seven emeralds in varying shaped table-cuts and box settings. Along the side panels is a frieze in black enamel with a stylised leaf pattern. The cross is inserted into a white enamel frame with opaque blue, translucent green scrollwork and strapwork and a translucent red enamel rosette. With integrated white enamel suspension loop and three pearl pendants.
Reverse: gold backplate with rounded cross ends, outlined in translucent green enamel with foliage and red rosettes. Two rampant heraldic lions face one another in the oval-shaped cross end. Remnants of a hinge on the backplate indicate that it originally opened, possibly revealing compartments for relics. The surrounding edge of the frame was adapted to fit the backplate.
This cross is a marriage of three earlier elements which may have been assembled in the nineteenth century or later. Whereas the ornamental decoration and enamel colours of the frame are late sixteenth century, the backplate with its symmetrical ornament with crossed lines in combination with birds, rosettes and lions is typical of the early eighteenth century.
The stylised frieze along the sides of the inserted emerald cross lacks any distinctive features and the settings of the emeralds merely imitate the Renaissance type; this element may therefore be a nineteenth century addition. It was possibly at that time that the cross was assembled into its current form.