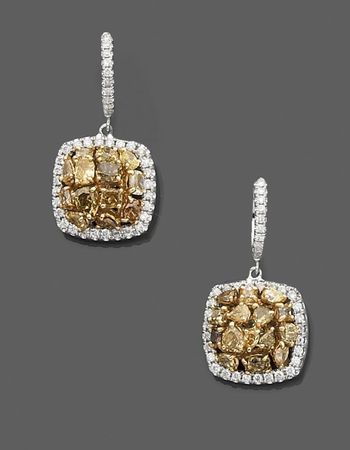 Paire de pendants d'oreilles en or gris et or jaune, de forme carrée, sertie de diamants ronds et taille fantaisie en camaïeux de jaunes, bruns et orangés, entourés d'une ligne de diamants blancs taille brillant. Photo Tajan
Poids brut : 9,2 g; haut. 3 cm environ. Poids des diamants de couleur : 2,89 cts. Poids des diamants blancs : 0,65 ct - Lot 159. Estimation : 3 500 / 4 500 €

A pair of fancy colored diamond, diamond and gold earpendants.

La paire de pendants d'oreilles est accompagnée d'un certificat G.I.A attestant : diamants de couleur naturelle.
Tajan - 98000 Monaco. Samedi 21 juillet 2012. Monte-Carlo - Café de Paris - Salon Bellevue - 98000 Monaco. Tel. +377 97 70 96 00 - Fax : +377 97 70 91 81