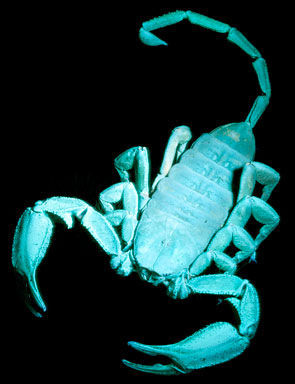 Fluorescing Scorpion. Melvin Moti, One Thousand Points of Light.© National Museums Scotland.
EDINBURGH.- Dutch artist Melvin Moti is to hold his first UK solo show at the National Museum of Scotland, as part of the Edinburgh Art Festival 2012.

One Thousand Points of Light will feature a new film focusing on light reactive minerals, and objects the artist has chosen from National Museums Scotland's collections, ranging from fluorescing fossils to a glowing jellyfish.

Working behind the scenes, Moti was immediately drawn to National Museums Scotland's collection of fluorescent minerals. These rocks absorb UV light and emit visible light – glowing with a spectrum of vibrant colours. His new film Eigenlicht, meaning 'intrinsic light', takes these rocks as its subject, capturing their changing colours as they float through a vacuum of dark space.

The film will be shown alongside selected objects, including a scientific demonstration once owned by photography pioneer Henry Fox Talbot, a fluorescing scorpion and uranium glass perfume bottles.

Melvin Moti commented:

"However dead the material of these rocks might be, they still seem to communicate to us. My main interest lies in this 'intrinsic quality' of these rocks and their colours, through which we understand what they are made from."

Melvin Moti is a Rotterdam-based artist who works primarily in film, as well as with sound. His work has been shown widely in Europe, including solo exhibitions at the Stedelijk Museum Bureau Amsterdam; Galleria T293, Napoli; and De Ateliers, Amsterdam. His work has also been shown at the Wattis Institute, San Francisco; Palais de Tokyo, Paris; Baltic Triennial; and Witte de With, Rotterdam, among others.

Bryony Bond, freelance curator for the exhibition, said: "It's important for museums to have the space to include many different voices. When so much of our daily life is virtual, and our understanding of the world comes from the internet or television, an opportunity to see in real life objects that have survived centuries or come from distant cultures and places seems exceptional and important. I think artists can help unlock some of the wonder of this experience, and make human connections to objects that may not be the Museum's star attractions, but are nonetheless remarkable."

This exhibition is part of a wider strategy by National Museums Scotland to support contemporary art. This includes the institution's first Artist's Fellowship. Glasgow-based artist Illana Halperin is researching and developing ideas for an exhibition inspired by National Museums Scotland's geology collections, to be held in 2013. With funding from Creative Scotland, the strategy will allow National Museums Scotland to broaden access to the outstanding national collections in new and creative ways.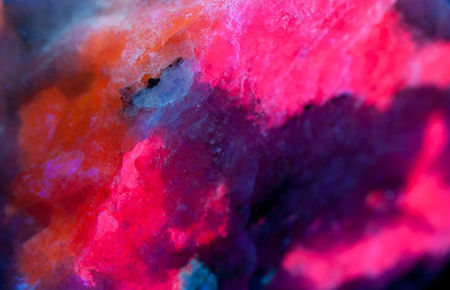 Fluorescing mineral. Melvin Moti, One Thousand Points of Light.© National Museums Scotland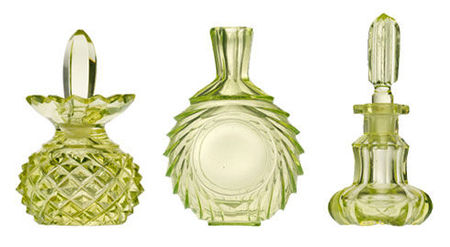 Uranium glass perfume bottles from the Ida Pappenheim collection. Melvin Moti, One Thousand Points of Light.© National Museums Scotland
Tugtupite, one of the minerals illuminated in Eigenlicht. Melvin Moti, One Thousand Points of Light.© National Museums Scotland
Glass jellyfish models made by Leopold Blaschka. Melvin Moti, One Thousand Points of Light.© National Museums Scotland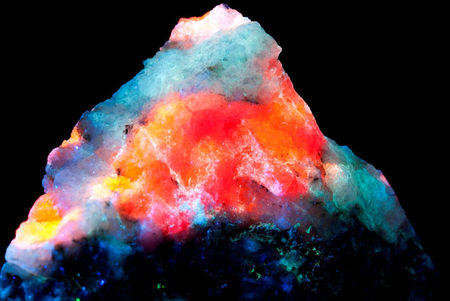 Melvin Moti, One Thousand Points of Light.© National Museums Scotland