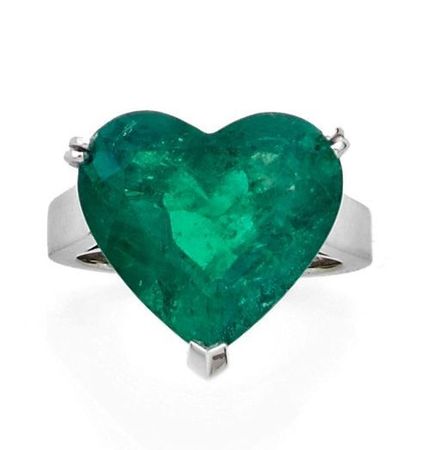 Boucheron. Bague en platine sertie d'une émeraude de 8,52 ct taillée en cœur. Photo Artcurial
Signée Boucheron. Poids de la pierre : 8,52 ct. Accompagné d'un certificat du Laboratoire Gübelin indiquant origine Colombie présence modérée d'huile dans le fissures. Poids brut : 10,6 g - Lot 703. Estimation : 50 000 / 60 000 €

AN EMERALD AND PLATINUM RING BY BOUCHERON ACCOMPNAIED WITH A CERTIFICATE STATING THAT THE 8,52CT EMERALD IS ORIGIN COLOMBIA WITH MODERATE OIL.
Artcurial - Briest-Poulain-F.Tajan - Monte-Carlo. Mercredi 25 juillet 2012. Hôtel Hermitage, Monte-Carlo. www.artcurial.com