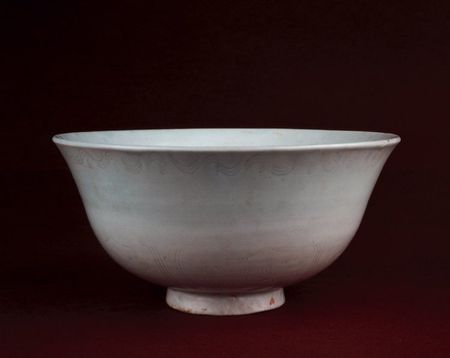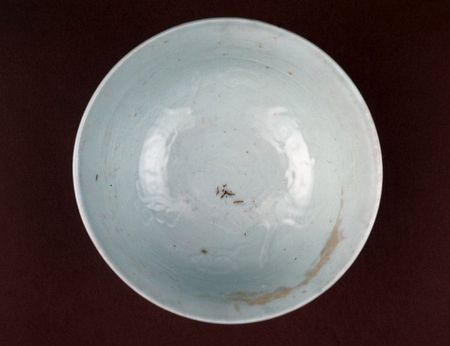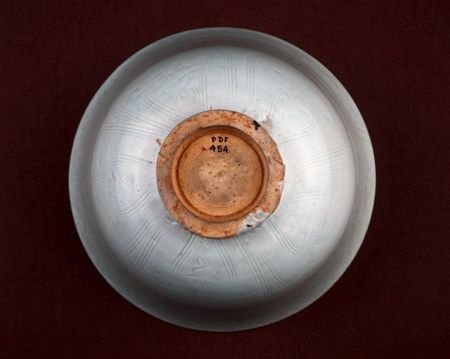 Bowl with luanbai glaze. Porcelain with moulded and incised decoration and luanbai glaze. Jingdezhen, Jiangxi province 江西省, 景德鎮.. Yuan dynasty, AD 1280–1368. Percival David Foundation of Chinese Ar. PDF A454. British Museum © Trustees ofthe British Museum
Shufu porcelain bowl. The bowl has a white body and blue-toned glaze. There is a scrolling pattern incised at the exterior rim, a lotus pattern at the exterior base, and geese among clouds beneath a classical scroll moulded on the interior. There is a mark in the centre of the interior. The base is unglazed. Height: 85 mm. Diameter: 170 mm.
This porcelain bowl is covered with an opaque blue-tinged glaze, except for the base. Outside it is incised with a scrolling pattern under the rim and with lotus petals around the foot. Inside is a moulded design of geese among clouds beneath a classic scroll. In the well is a mark which reads 樞府 (shufu 'Privy Council'). The invention of this thick egg-white glaze was important for the development of blue-and-white porcelain at Jingdezhen.