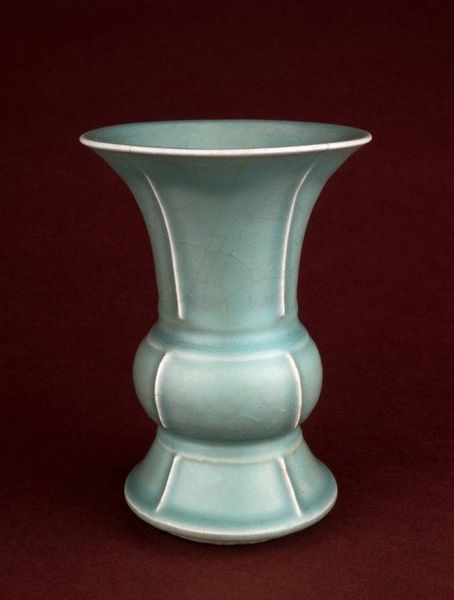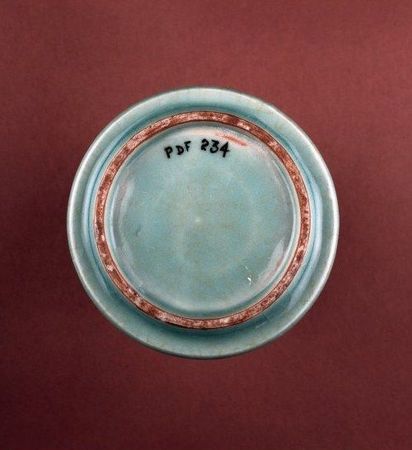 Vase modelled after an ancient bronze. Stoneware, porcelain-type, carved, sprig-moulded decoration and celadon glaze. Longquan ware 龍泉窯; Longquan region, Zhejiang province 浙江省,龍泉地區. Yuan dynasty, AD 1280–1368. PDF 234. Percival David Foundation of Chinese Art. PDF A40. British Museum © Trustees of the British Museum
Height: 192 mm. Longquan porcelain vase of archaic bronze gu or zun shape, with a globular midsection expanding to flared mouth and foot rims. The vase has pale greyish green crackled glaze. There are four vertical ribs around the exterior, and two horizontal grooves around the central section.

This celadon vase is modelled after an ancient ritual drinking vessel called a gu. Wealthy aristocrats and generals of the Shang and Zhou dynasties, (about 1600–256 BC), buried bronze vessels as part of ritual eating and drinking equipment for tombs. The shape was transformed into a vase in the Song dynasty (AD 960–1279) as catalogues of collections of antiques were published with woodblock-printed illustrations. Related gu vases with less well-defined decoration were recovered from the Sinan shipwreck of AD1323. This ship was sunk in the waters near the Dokdo islets off the Shinan coast in south-west Korea. Of the 17,000 ceramics on board, over half were from Longquan. The ship is believed to have been travelling from Ningbo in southern China to Korea, on its way to Japan.
Bibliographic reference: Medley, Margaret, Illustrated Catalogue of Celadon Wares in the Percival David Foundation of Chinese Art, London, University of London, Percival David Foundation of Chinese Art, School of Oriental and African Studies, 1977
Pierson, Stacey, Illustrated Catalogue of Celadon Wares in the Percival David Foundation of Chinese Art, London, University of London, Percival David Foundation of Chinese Art, School of Oriental and African Studies, 1997Pierson, Stacey, Illustrated Catalogue of Celadon Wares in the Percival David Foundation of Chinese Art, London, University of London, Percival David Foundation of Chinese Art, School of Oriental and African Studies, 1997