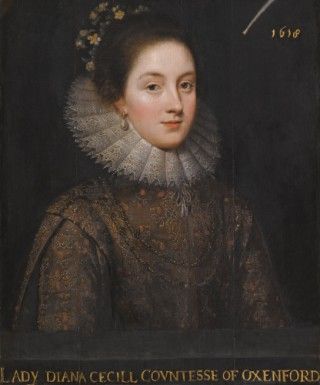 Attributed to Paul van Somer (Antwerp 1576 - 1621 London), Portrait of Lady Diana Cecil (1596-1654), Countess of Oxford and later Countess of Elgin. Photo Sotheby's
dated upper right: 1618, and later inscribed, lower centre: LADY DIANA CECILL COVNTESSE OF OXENFORD; oil on panel; 66 by 54.5 cm.; 26 by 21 1/2 in. Estimation 15,000-20,000 GBP. Lot vendu: 45,650 GBP
PROVENANCE: By descent in the family of the sitter's second husband, Thomas Bruce, 1st Earl of Elgin (1599-1663).
NOTE DE CATALOGUE: The sitter was the daughter and coheir of William Cecil 2nd Earl of Exeter (1566-1640) and Elizabeth Drury. As this portrait attests, Lady Diana's beauty was legendary. In 1618 aged only 22 she sat for this portrait and capitalised upon the recent appearance of a comet which is depicted upper right. Such a rare occurence triggered widespread fascination and speculation about its possible providential meaning. Was the "blazeing starr" a sign of God's displeasure, or a portent of disaster to come? Some predicted war, some a crisis in religion or the death of kings. King James himself wrote a rather nervous poem speculating on the meaning of the 'Angry starr' (Bodleian MS Rawl.Poet. 84,fol. 72r).
For Lady Diana the comet appears to have been added to emphasise her distinctive appeal. Few portraits exist which display a comet and these have rather charmingly been attributed to the 'Comet Master.' Lady Diana's beauty was matched by the attraction of her immense dowry- a staggering fortune of £30,000. She married firstly Henry de Vere, 18th Earl of Oxford (1593-1625) in 1624 and secondly Thomas Bruce, 1st Earl of Elgin (1599-1663).
Sotheby's. Old Master & British Paintings Day Sale. Londres | 05 juil. 2012 www.sothebys.com