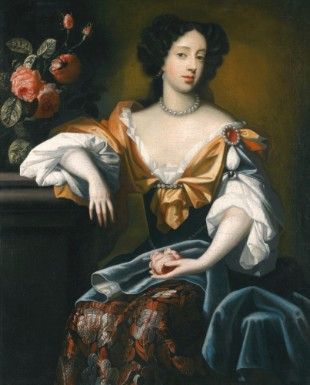 Simon Pietersz. Verelst (The Hague 1644 - 1721 (?) London), Portrait of Mary of Modena (1658-1718). Photo Sotheby's
indistinctly signed centre left: S. Verelst. oil on canvas; 127 by 101.5 cm.; 50 by 40 in. Estimation 40,000-60,000 GBP. Unsold
PROVENANCE: Anonymous sale, New York, Sotheby's, 27 May 2004, lot 220, for $60,000;
Private Collection, France;
With Historical Portraits, London, where aquired by the present owner
NOTE DE CATALOGUE: Born Maria Beatrice d'Este, and known in England as Mary of Modena, the sitter was the only daughter of Alfonso IV, Duke of Modena. In 1673 she married James, Duke of York, younger brother of King Charles II, who would later succeed as King James II. The present work can be dated to circa 1677, based on the style of the sitter's hair in comparison with dated portraits of her by Lely, and possibly commemorates the birth of her son, Charles, Duke of Cambridge, who was born on 7th November 1677 but died in infancy.1
It is one of a number of known autograph versions of the composition, and is characteristic of Verelst's work in its hardness of line and exaggerated treatment of light and shade, which imbue his paintings with an almost otherworldly quality. The artist's idiosyncratic style was popular among Charles II's courtiers, and he was widely patronised, particularly among the ladies at court, including Louise de Kéroualle, Duchess of Portsmouth, and Nell Gwyn.2
The importance of this composition within the iconography of Mary's portrait types is indicated by the existence of both a contemporary miniature copy by Susannah-Penelope Rosse (Royal Collection) and an oval copy by Benedetto Gennari (1633-1715) which was sent to Italy. That it was a copy of Verelst's portrait which Mary chose to be sent home to Italy suggests that, at the time, this type was considered among the finest of the sitter, and the one that appealed most to her own taste.
A notice in the inventory of the Royal Collection made during the reign of Queen Anne mentions a picture described as 'Verhelst. The Late Dutchess of York at 1/2 length'.3
Another version of this portrait was sold in these Rooms on 23rd November 1977, lot 43, and is now in the Paul Mellon Collection (New Haven, Yale Centre for British Art).
1. See C. MacLeod and J. Marciari Alexander (eds.), Painted Ladies; Women at the Court of Charles II, exhibition catalogue, New Haven and London 2001, p. 161.
2. A half length portrait by Verelst of Nell Gwyn, signed by the artist, is in the National Portrait Gallery, London.
3. O. Millar, Tudor, Stuart and Early Georgian Pictures in the Collection of her Majesty the Queen, London 1963, p.132.
Sotheby's. Old Master & British Paintings Day Sale. Londres | 05 juil. 2012 www.sothebys.com