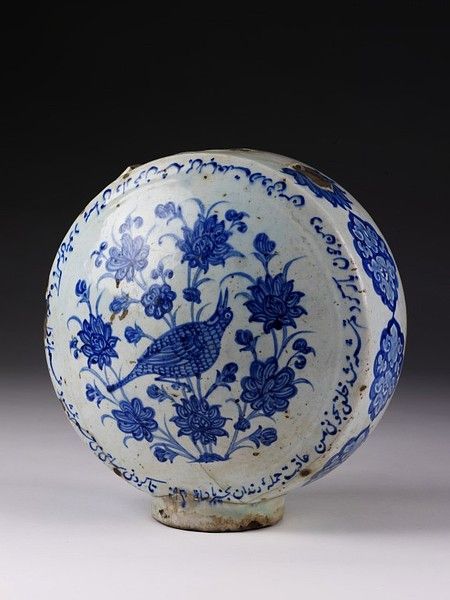 Flask, fritware underglaze-painted in blue on white, depicting a bird in flowers, dated 930H (1523-24), Nishapur, Iran. Height: 24.6 cm, Width: 23.8 x 16.5 cm. C.1973-1910. Victoria & Albert Museum © V&A Images
Flask, fritware, of flattened circular form, raised on a tall round footring, the neck is missing, as are the handles indicated by the base of one lug and an unglazed patch on the upper shoulder,underglaze-painted in blue, the circular panels depicting a single bird perched on a flower spray, one of three each with blossoms resembling stylized lotus flowers, within a border of nasta'liq script with poetic inscription incorporating a dated 930 AH/1523-4 AD. The panel on each side is decorated with three ogee-shaped medallions with cloud collar bands below a circle of petals at the handle base. There is a wax seal inside the base and no mark.
Two stanzas of a poem in Persian run round the border of the flask, one on each side:
The wine does not reach the spout of the flask
The pain in the precarious dwelling [of our lives] does not decrease.
The flask becomes the dwelling of blood when your ruby lips are not within me.
When I uncork the mouth of the blood red [wine] people thirst for my blood.
May the end of the reveler be auspicious. Finished [in] 930.
O Lord, make my soul [go] dumb before you,
Of my being let neither my name nor my features reach you.
At the end of time let me not be for a [single] second with you,
In short may the world be without you.
A reveler in this ancient tavern says:
May the end of all revelers be auspicious!
Written in the months of the year 930.
The flask was part of the Salting Bequest, and until its gift in 1910, was catalogued as Chinese porcelain.
There is a long tradition of pottery production in Nishapur. During the Safavid period, the artistic and merchant community must have supported the local industry, as Nishapur was not directly associated with the court, who were the usual patrons. Although destroyed by earthquakes and Mongols, a pottery industry was re-established by 1430, following the Diaspora of potters from Samarqand in 1411. This flask, dated 930 AH / 1523-4 AD, was produced in the decades before Iran was flooded with mass-produced Chinese export porcelain in the Jiajing and later Wanli periods, around 1550-1625.
The shape is ultimately based on metal pilgrim flasks, such as the large Syrian brass canteen, dating to the mid-13th century, in the collection of the Freer Gallery, Washington. The form was designed to be carried by travellers or slung from horse trappings by straps attached to handles, now missing, along with the neck. In ceramics, pilgrim flasks, presumably ornamental, appear in early 15th century Chinese porcelain in the Yongle and Xuande periods, possibly made as diplomatic gifts.
The decoration is also inspired by Chinese porcelain of the Xuande period (1426-35), which suggests that in the finest examples the potters had access to a courtly collection of "antique" porcelain. However, this flask, part of a group, which includes a pilgrim flask painted with ducks, in the Hermitage Museum, St. Petersburg, which is a more loose interpretation of a Chinese prototype, and a large dish in the Middle Eastern Culture Center in Mitaka, Tokyo, with a very similar design. The Tokyo dish has two birds and an inscription with the date 929 AH / 1522-3 AD as well as the name of the place of manufacture "Nishapur".
Similar examples, so-called Kubachi wares, have been attributed lately to north-west Persia.
Bibliographic References: Y. Crowe, Persia and China: Safavid Blue and White Ceramics in the Victoria and Albert Museum 1501-1738, Thames and Hudson, Geneva, Switzerland, and London, 2002, p. 50, cat. no. 2, and colour plate 2.
Lisa Golombek, Robert B. Mason, Gauvin A. Bailey, Tamerlane's tableware : a new approach to the chinoiserie ceramics of fifteenth- and sixteenth-century Iran, Mazda Publishers in association with Royal Ontario Museum, Costa Mesa, California, 1996, Pl. 48.
J. Michael Rogers, Islamic Art and Design: 1500-1700, London, 1983, cat. no. 152.
Marina Whitman, Persian Blue-and-White Ceramics: Cycles of Chinoiserie, University Microfilms International, Ann Arbor Michigan, 1978, fig. 97a-b.
Yolande Crowe, 'A Preliminary Enquiry into the Underglaze Decoration of Safavid Wares', in Margaret Medley (ed.), Decorative Techniques and Styles in Asian Ceramics, London, 1978, pp. 104-25, pl. 2a.
Lane, Arthur. Later Islamic Pottery. London: Faber and Faber, 1957, pl. 64B.
Richard Ettinghausen, "Important Pieces of Persian Pottery in London Collections", Ars Islamica, 1935, 2:45-64, fig. 14.