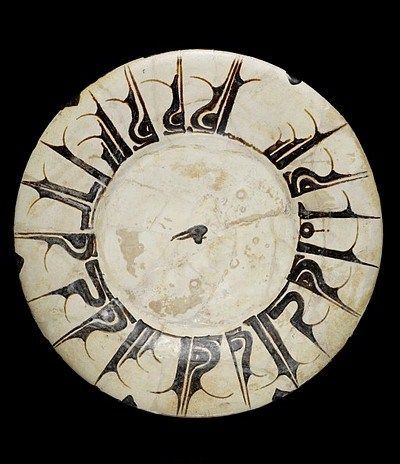 Earthenware bowl decorated with a black slip inscription in an exaggerated calligraphic style on a white slip ground, Eastern Iran or Uzbekistan, ca. 900-1000. Diameter: 37.7 cm, Height: 4.6 cm. C.47-1964: Given in memory of Arthur Lane; C.909-1935. Victoria & Albert Museum © V&A Images
The decoration on this large dish is inspired by a metalwork technique known as niello. It imitates silver inlaid with black inscriptions. The potter covered the earthenware body with slip (liquid clay) to create a white ground for a contrasting inscription in Arabic in black slip. As on many Islamic dishes, the inscription offers good wishes for the owner.
This distinctive ceramic tradition developed in eastern Iran from the 10th century. Potters took inspiration from indigenous metalwork and applied the decoration in slip of contrasting colours.