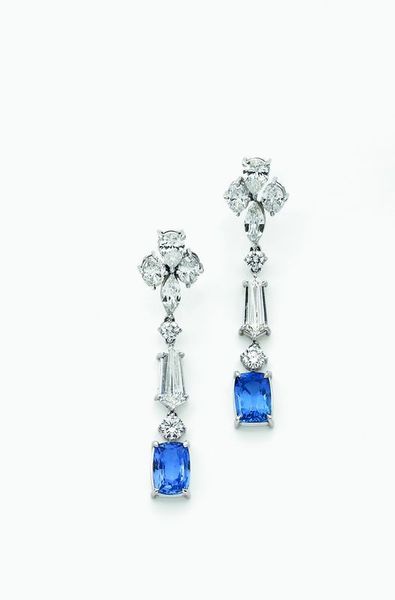 Paire de pendants d'oreilles en or gris composés d'un motif fleur serti de diamants de formes ovales, poires et marquises retenant en pampille une chute de diamants de taille brillant et hexagonal et un beau saphir coussin. Photo Antoine Aguttes
Poids brut: 8.4gr. Poids des diamants: env 11carats. Lot 53. Estimation : 16 000 / 20 000 €
Saphirs accompagnés de certificat GRS précisant 2.94 carats et 3.11 carats, de couleur «pastel blue», origine Sri Lanka, pas d'indication de traitement thermique constaté.
Diamants en partie accompagnés de certificats HRD ET GIA

A pair of gold, sapphire and diamond pendant earrings. With certificates.
Antoine Aguttes. Mercredi 8 août 2012. Hôtel Majestic - 10, La Croisette - 06407 Cannes. Contact: Diane de Karajan 06 58 99 89 94.