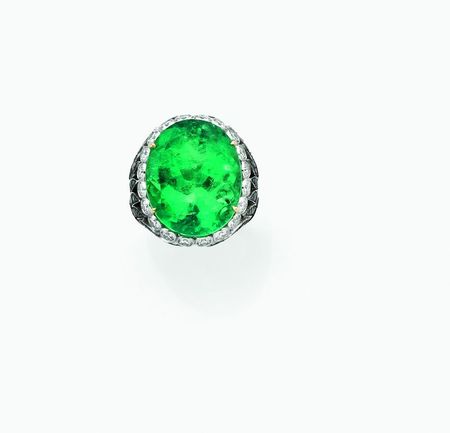 Très importante bague «Fleur de Lotus» en or gris ornée d'une émeraude dans un entourage de diamants de taille brillant sur une monture à décor stylisé de plumes serties de saphirs. Photo Antoine Aguttes
Tour de doigt: 53. Poids brut: 25.3gr. Lot 109. Estimation : 60 000 / 70 000 €
Emeraude accompagnée d'un certificat GIA précisant son poids 28.87 carats , provenant de Colombie, légère amélioration de clarté constatée.

A gold, diamond, emerald and sapphire ring.
The emerald has GIA certificate which specifies that it is 28.87 carats, that it originates from Colombia and that the clearness has been slightly improved.
Antoine Aguttes. Mercredi 8 août 2012. Hôtel Majestic - 10, La Croisette - 06407 Cannes. Contact: Diane de Karajan 06 58 99 89 94.