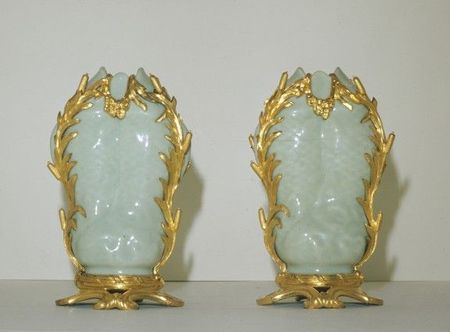 Pair of Vases in the Shape of Twin Fish. Porcelain: Qianlong mark and period, 1736-1750; Mounts: mid 18th century. Porcelain with light celadon glaze and French mounts. 49.1824 H: 7 3/8 in. (18.7 cm); 49.1825 H: 7 5/16 in. (18.5 cm). Acquired by William T. or Henry Walters. 49.1324, 49.1325. The Walters Art Museum
This pair of vases depict twin fish rising from the waves.
Provenance: William T. / Henry Walters Collection, Baltimore [date and mode of acquisition unknown]; Walters Art Museum, 1931, by bequest.