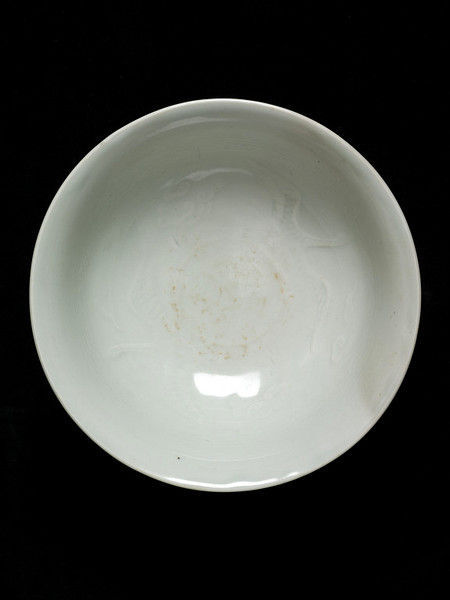 Shufu ware. Bowl, glazed porcelain with moulded crane and cloud design, China, Yuan dynasty, 14th century. Height: 7.3 cm, Diameter: 16.6 cm. Museum no. FE.193-1974. Mrs B.Z. Seligman Bequest [2009]. © V&A Images
Porcelain bowl with rounded sides slightly everted at the rim and thick, square-cut foot. Thick blue-grey glaze discoloured in one place in the firing. Glaze stops short of footring, which together with base is unglazed and burnt reddish. Decorated inside with moulded cranes amid clouds and with two faint indecipherable characters in a classic scroll border, and on the outside rim with an incised band of classic scroll.
The blue-decorated porcelain from Jingdezhen was highly successful because Chinese potters were able to produce a very white porcelain body. Plain white dishes and bowls were made for the Yuan dynasty court, as white was considered an auspicious colour by the Mongols.
Bibliographic References: Ayers, John Chinese and Korean pottery and porcelain London: Lund Humphries, 1964, Seligman collection of Oriental art series II, D237
Exhibition History: 'The Seligman Collection of Oriental Art' (Arts Council of Great Britain 01/01/1966-31/12/1966)