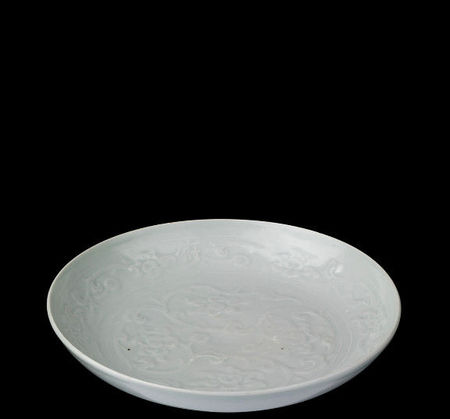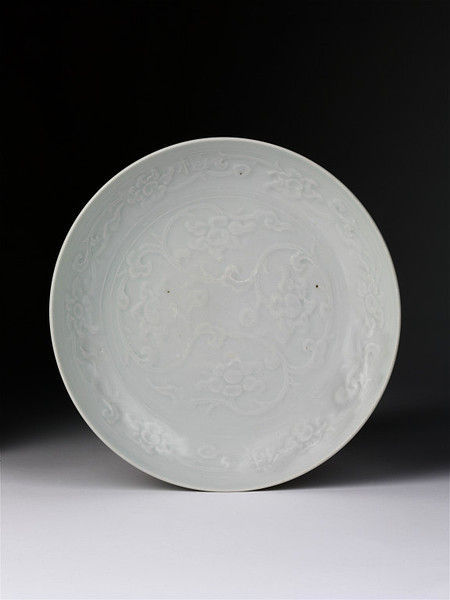 Porcelain dish with moulded lotus design, shufu ware, China, Yuan dynasty, ca.1300-1350. Porcelain with moulded decoration. Diameter: 18.4 cm From register, Height: 4.7 cm From register. Given by Professor E. V. Lee. FE.49-1983. © V&A Images
[Dish] Porcelain dish with straight rim and thick unglazed base, decorated with a stylised lotus scroll moulded in relief in the centre, and a lotus scroll band and the two characters 'shu fu' in the cavetto; the glaze is bluish-white. Particles of grit are on the foot, and pin-holes and kiln particles on the outside. The base is flat with marks of turning in the centre.
The so called 'shufu ware' represents one of the most important porcelain productions at the kilns of Jingdezhen during the Yuan dynasty (1279-1366). It is characterised by an opaque bluish-white glaze, generally applied on thickly potted objects. The name derives from the characters shu fu, usually found on the surface and translated as 'Privy council' or 'Central palace'. They indicate that the objects were produced for official use.
Marks and inscriptions: 'Shu fu' in the cavetto Privy council