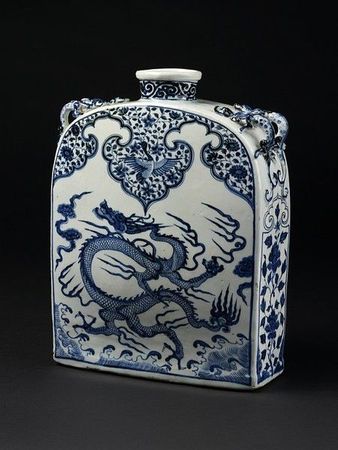 Flask with dragon. China, Jingdezhen. Yuan dynasty, 1300–68. Porcelain painted in underglaze blue. Height: 37.0 cm, Width: 28.0 cm, Depth: 9.0 cm. Museum no. C.47-1935. Purchased with the assistance of The Art Fund, the Vallentin Bequest, Sir Percival David and the Universities China Committee [September 2009] © V&A Images
The design of dragons and 'cloud collars' here was painted in a blue derived from cobalt - a revolutionary innovation at the time that this flask was made. Known as 'blue and white' in the West, such wares are undoubtedly the most familiar, influential and widely imitated of all Chinese ceramics. At the time of writing, a Yuan dynasty blue-and-white jar is the most expensive ceramics item ever sold at auction, reaching a 'hammer price' of £14 million.
It was no coincidence that the success story of Chinese blue and white should begin while China was under Mongol rule, when the country was highly receptive to ideas from abroad. As early as the ninth century, Chinese potters had briefly experimented with painting in cobalt blue. The impetus of its revival in the fourteenth century probably came from the Middle East, which was the main source for the cobalt used in China during these years, and was also a hugely important export market for Yuan and later porcelain. It was via trade with the Middle East that most early blue-and-white porcelains reached Europe until Portuguese seafarers found their way to China in the sixteenth century. In china the early use of blue and white was probably restricted to the Mongol court and the more affluent Chinese. Production expanded after Mongols were overthrown in 1368 and in the second half of the fifteenth century a native supply of cobalt was found. Chinese blue and white has enjoyed uninterrupted popularity from the time until present day.
Historical significance: Only seven flasks of this shape are known to exist, only one in private hands.
Bibliographic References: Liefkes, Reino and Hilary Young (eds.) Masterpieces of World Ceramics in the Victoria and Albert Museum. London: V&A Publishing, 2008, pp. 48-49.
Exhibition: International Exhibition of Chinese Art (Royal Academy of Arts 01/01/1935-31/12/1936)