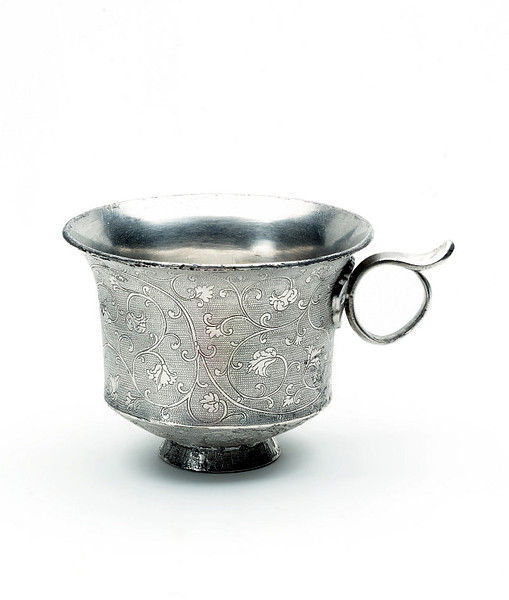 Silver cup with handle, 650-750. China, Tang dynasty (618-960). Chased and punched silver. Height: 5.1 cm, Diameter: 6.5 cm. Museum no. M.32-1935. From the Eumorfopoulos collection, purchased with the assistance of The Art Fund, the Vallentin Bequest, Sir Percival David and the Universities China Committee [Art Fund logo] [2007] © V&A Images.
Silver cup of inverted bell shape with small hollow foot and loop handle with thumb piece, decorated with a chased design of floral scrolls on a ground of finely punched dots.
Silver objects were not as highly coveted in China as in other ancient civilisations such as the Roman or the Parthian, but they became important luxury items for emperors and high-ranking officials during the Tang dynasty (AD 618-960). By the beginning of the 7th century large quantities of silver pieces with exotic shapes and styles were imported along the Silk Road from Iran and Central Asia to China. Chinese craftsmen often reproduced foreign shapes and acquired new manufacturing techniques from Central Asian silversmiths who had settled in Chinese urban centres beginning in the mid 7th century.
This small, handled cup was used to drink alcohol; its shape and the chased decoration of floral scrolls both suggest the influence of similar Sasanian silver examples.
Bibliographic References: Rose Kerr, Chinese Art and Design. The T.T.Tsui Gallery of Chinese Art, London: Victoria and Albert Publications, 1991, p. 172, fig. 78
Whitfield, Susan. The Silk Road: Trade, Travel, War and Faith. London: The British Library, 2004, p. 239, pl. 170.
Exhibition: The Silk Road Trade, Travel, War and Faith (British Library 01/04/2004-30/04/2004)