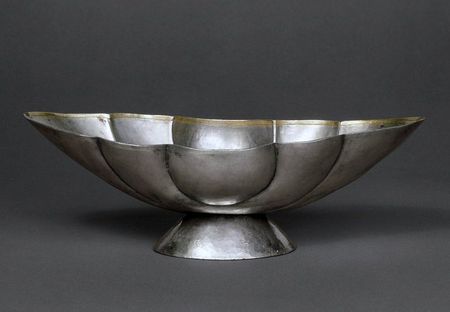 Silver eight-lobed dish, 675-750, China, Tang dynasty (618-960). Chased and gilt silver. Length: 18.8 cm. Museum no. M.35-1935 [2007] © V&A Images
Eight-lobed silver dish with oval domed hollow foot; at each end of the internal surface there is a chased and gilt fish and a gilt band runs along the internal rim.
Silver objects were not as highly coveted in China as in other ancient civilisations such as the Roman or the Parthian, but they became important luxury items for emperors and high-ranking officials during the Tang dynasty (AD 618-960). By the beginning of the 7th century large quantities of silver pieces with exotic shapes and styles were imported along the Silk Road from Iran and Central Asia to China. Chinese craftsmen often reproduced foreign shapes and acquired new manufacturing techniques from Central Asian silversmiths who had settled in Chinese urban centres beginning in the mid 7th century.
This eight-lobed dish was hammered out of silver sheets and decorated with a thin gilt band along the internal rim and a chased design of a fish on the bottom. Its shape is derived from similar Sasanian silver wares.
Bibliographic References: Rose Kerr (ed.) Chinese Art and Design. The T.T.Tsui Gallery of Chinese Art, London: Victoria and Albert Museum, p. 58, fig. 19