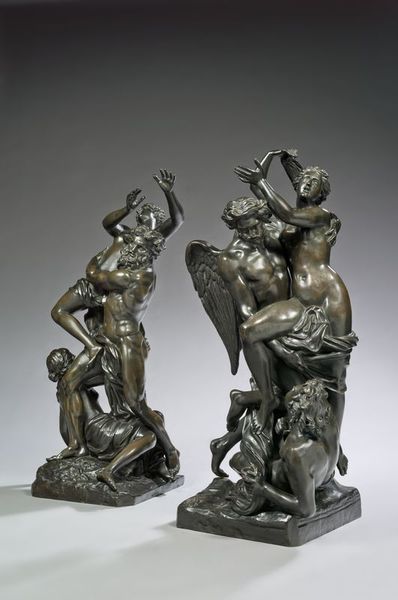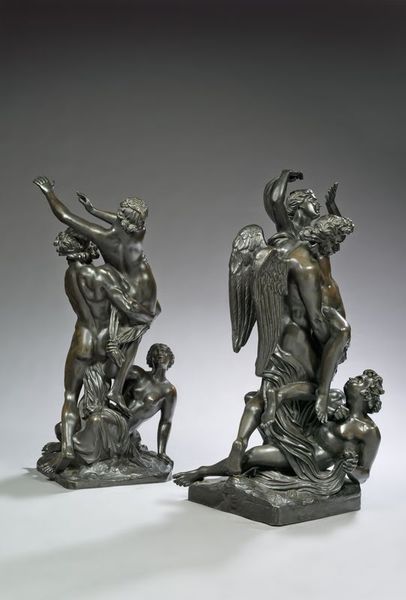 L'enlèvement. Pluton et Proserpine. Borée et Orithye. Paire de groupe en bronze à patine noire mordorée. Première partie du XIXème siècle. Photo Christian BARAJA
Pluton et Proserpine. H : 99 cm L : 36 cm P : 35 cm - Borée et Orithye. H : 100 cm L : 36 cm P : 36 cm. Lot 530. Estimation : 70 000 / 80 000 €
A pair of groups in golden patina black bronze. First part of the 19th Century. Pluton and Proserpine. H : 39 in L : 14 in D : 13 ¾ in - Borée and Orithye: H 39 1/3 in L : 14 in D : 14 in

Bibliographie : - François Souchal, French sculptors of the 17th and 18th centuries, The reign of Louis XIV, Londres, 1981.
- Exposition Bronzes français de la Renaissance au siècle des Lumières, Paris, Musée du Louvre, Somogy, 2008.

Le thème de ces sculptures est très en vogue en France à la fin du XVIIe et au début du XVIIIe siècle, sous le règne de Louis XIV.
En 1677, Louis XIV commande quatre groupes monumentaux en marbre sur le thème de l'Enlèvement, destinés au Parterre d'eau du parc du château de Versailles, tel que le peintre Charles le Brun l'avait conçu en 1674.

The theme of these sculptures was very fashionable in France at the end of the 17th and the beginning of the 18th Century, during the reign of Louis XVI.
In 1677 he ordered four monumental marble groups around the theme of the "Enlèvement" to be placed on the Parterre of water in the grounds of the Chateau de Versailles, exactly as it had been imagined by the painter Charles le Brun in 1674.
Antoine Aguttes. Vendredi 10 août 2012. Hôtel Majestic - 10, La Croisette - 06407 Cannes (France). Contact: Diane de Karajan au 06 58 99 89