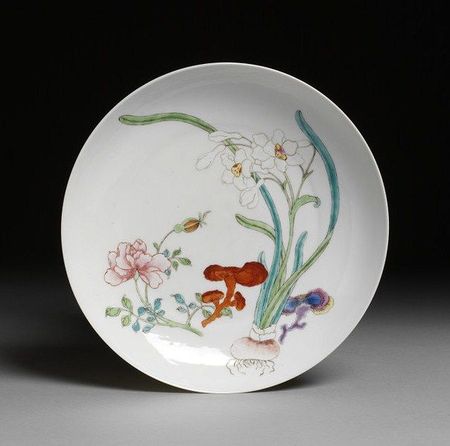 Dish with floral design. Porcelain painted in famille rose (pink enamel) style. Jingdezhen kilns, south China. Yongzheng reign period, 1723-1735. Diameter: 21 cm. 647-1907. Julia C. Gulland Gift. © V&A Images
Dish painted with narcissus, rose and magic fungus.

In the Qing dynasty (1644-1911) Jingdezhen potters experimented with new forms and glazes, often with support from the emperors and state officials. Chinese porcelain was admired and collected all over the world. The tradition of inscribing the emperor's reign title on the wares continued. The colour scheme on this dish is generally referred to as 'famille rose' (pink family) by art historians in the West.
Bibliographic References: Rose Kerr Chinese Ceramics, Porcelain of the Qing Dynasty 1644-1911' V&A, 1998, No 94