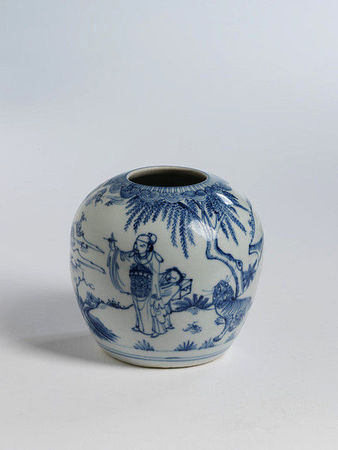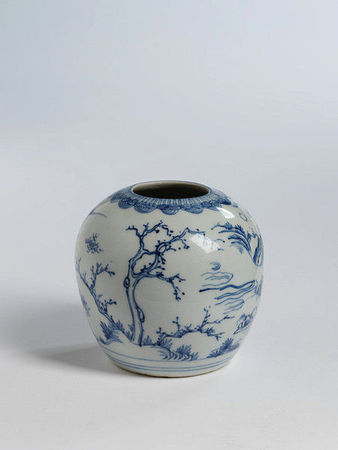 Jar, porcelain painted in underglaze blue with two figures and a tiger in a landscape, China, Ming dynasty, mid 17th century. Height: 9.8 cm, Diameter: 10.5 cm. C.544-1921. © V&A Images.
Porcelain jar, globular body with narrow mouth. Painted in underglaze blue with an official and a boy attendant walking in a landscape, beside them crouches a tiger. Round the mouth with radiating lines and a row of sceptre-heads (ruyi).
This globular shaped jar was made at workshops in Jingdezhen in Southern China during the mid 17th century. It would originally have had a short neck with a dish mouth, but this has been ground down, probably because it sustained damage at some point. The fact that care was taken to do this suggests that it was a valued object. The design is executed in cobalt blue outlines under the glaze. This style of underglaze blue painting first appeared in the early 17th century.
The design features a man, dressed in scholars robes, but also wearing chest armour; this dress and appearance is consistent with depictions of Guan Di, the Daoist God of War and patron of merchants, who was a popular cult figure during the Ming dynasty (1366-1644). In this depiction he is accompanied by an attendant and a tiger in a garden landscape.
Bibliographic References: Hobson, R.L. The wares of the Ming dynasty. London: Benn Brothers, 1923, p. 57, Pl. 16