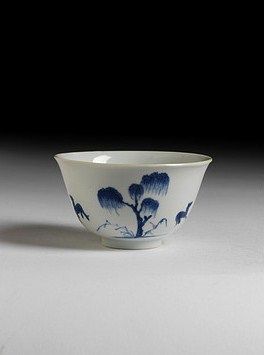 Cup, porcelain painted in underglaze blue with horses and a tree, China, Ming dynasty, Chongzhen period (1624-1644). Height: 5.1 cm, Diameter: 8.9 cm. C.46-1930. Given by Mr Sydney Vacher. © V&A Images.
Porcelain cup with out-turned rim and short foot, painted in underglaze blue with horses and a tree. Apocryphal 'da Ming Chenghua nian zhi' in underglaze blue Made in the Chenghua period of the great Ming dynasty.
This small porcelain cup was made at workshops in Jingdezhen, southern China, during the latter years of Ming dynasty rule, under the Chongzhen emperor (1628-1644).
Ceramics made in this period have often been called 'Transitional wares' by scholars in the past. This is because the period of their production marks the transition between Ming and Qing rule.
During the early 17th century there was a significant decline in production of imperial wares at the workshops in Jingdezhen. At the same time there was a great increase in the production of 'minyao' or non-imperial blue and white porcelains due to both domestic demand and a healthy export trade.
The carefree design of horses and trees on this cup is characteristic of many wares of this period. They took on a new kind of aesthetic that was creative and freely expressive; completely different to the formality of many imperial wares.