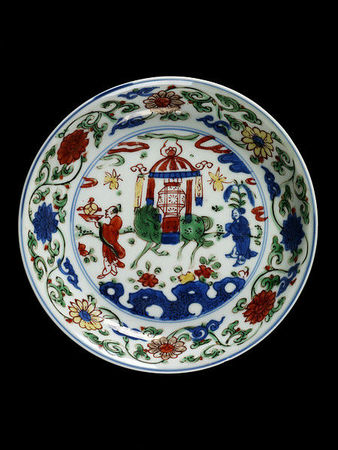 Dish with underglaze blue and overglaze enamel decoration in 'wucai' style, Ming dynasty, Wanli mark and period (1573-1620). Diameter: 12.7 cm. C.1037-1917. Given by Sir Percival David, Bt. © V&A Images.
Porcelain dish with a design in the centre of a horse carrying a vase under a canopy on its back, preceded by a man carrying a large cash emblem on a dish, and followed by another. It has a border of peonies and scrolled foliage.
This is an example of a polychrome porcelain dish decorated in the wucai ('five colours', i.e., polychrome) style. The technique began in the Jiajing era (1522-1566) of the Ming dynasty and flourished in the Wanli period (1573-1620), to which this dish belongs. As seen in this dish, blue played a large role in the five colours, and the enamel motifs could be outlined in red or black. This dish is an exemplar of the brilliance of the colours and the more free, dynamic designs of the wucai style.