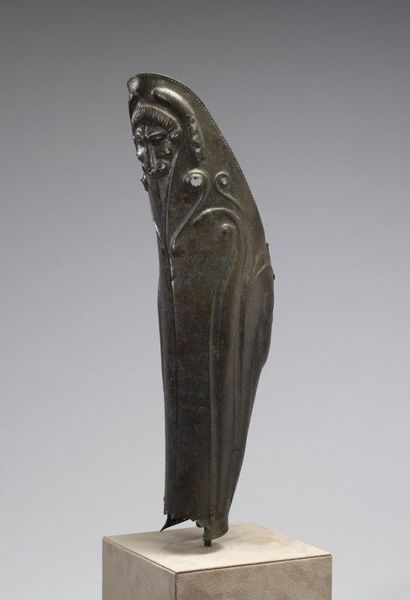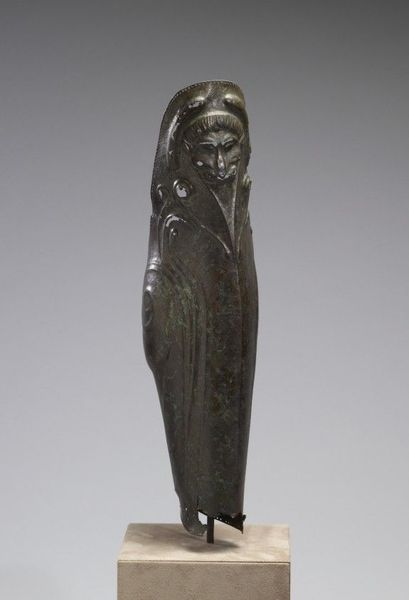 Left Greave. Greek, 6th century BC. Bronze. H: 15 15/16 x W: 4 1/8 x D: 4 15/16 in. (40.5 x 10.5 x 12.5 cm). 54.2336. Museum purchase, 1949. The Walters Art Museum
A greave is armor that protects the kneecap and lower leg. This example has elaborate decoration in repoussé (a technique in which metal is impressed from the rear to form a raised design), including the face of a lion over the knee and lines emphasizing the muscles of the calf on either side. Tiny holes lining the top and bottom edges secured a fabric lining and leather strips for attachment to the leg. This piece of bronze armor is an element of the hoplite's panoply, which also included a helmet, breastplate, shield, spear, and sword. The hoplite's armor signified the social status of its owner, who was required to furnish his weapons at his own expense. It also signaled a citizen's service to the community and would thus have been a source of pride to its owner (Snodgrass 1967 (1999), 58-9).
Provenance: Joseph Brummer Estate Sale, New York, 1949, pt. II, lot 183; Walters Art Museum, 1949, by purchase.
Exhibitions: In Search of Ancient Treasure: 40 Years of Collecting. The Walters Art Gallery, Baltimore. 1978.
Heroes: Mortals and Myths in Ancient Greece. The Walters Art Museum, Baltimore; Frist Center for the Visual Arts, Nashville; San Diego Museum Of Art, San Diego; Alexander S. Onassis Public Benefit Foundation (USA), New York. 2009-2011.