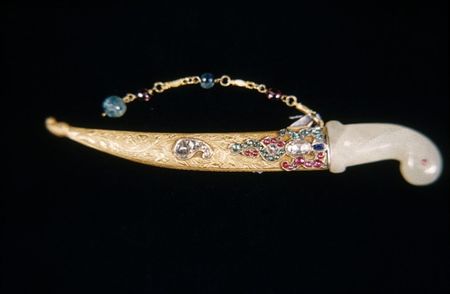 Miniature Sword (shamshir). Turkey, 1601-1602. SSteel, inlaid with gold and rubies (blade); serpentine, gilded brass, rubies (hilt); gilded brass, diamonds, emeralds, rubies, garnets (sheath). L: 4 13/16 x W: 3/4 x D: 3/8 in. (12.22 x 1.91 x 0.9 cm); W with chain: 1 3/16 in. (3 cm). 51.80. Acquired by Henry Walters, 1903. The Walters Art Museum
These three miniature daggers (51.79, 51.80, and 51.81) fit inside a compartment in the butt of the rifle.
Provenance
:
R. S. Pardo, Constantinople [datea and mode of acquisition unknown]; Henry Walters, Baltimore, 1903 [mode of acquisition unknown]; Walters Art Museum, 1931, by bequest.