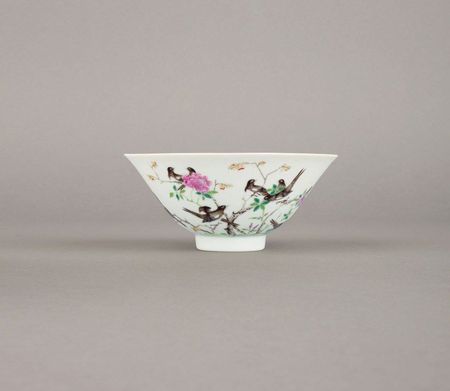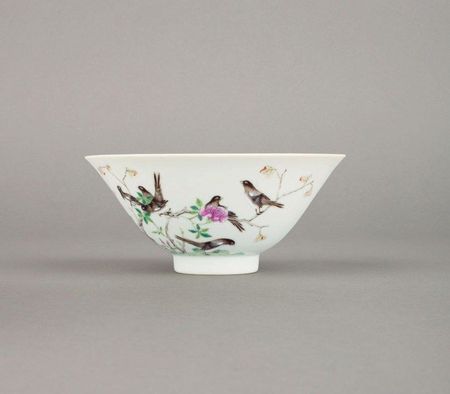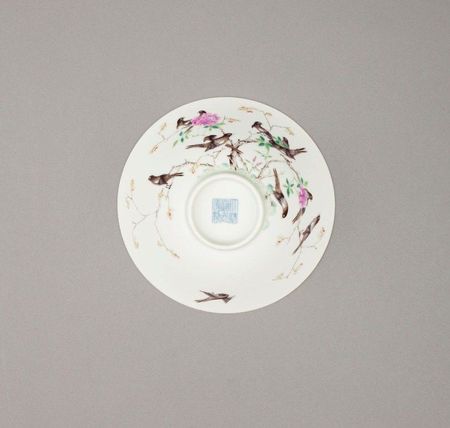 A Chinese imperial porcelain famille rose fencai bowl. The base with a six-character sealmark of Daoguang in underglaze blue and of the period, 1821-1850. Photo courtesy Marchant
of conical form, painted on the exterior with ten magpies perched amongst branches beside flowering tree peony, with a further magpie standing on grass, the reverse with a twelfth magpie in flight, the interior glazed white. 5 3⁄8 inches, 13.7 cm diameter.

• Sold by Sotheby's Hong Kong in their auction of Fine Chinese Ceramics and Works of Art, 15th May 1990, no. 251, purchased by Marchant.
• Included by Marchant in their exhibition of Nineteenth Century Mark and Period Porcelain, 1991, no. 50, p. 51.
• Sold by Marchant, 9th June 1991.
• Formerly in a European private collection.
• A related bowl is illustrated by H.A. van Oort in Chinese Porcelain of the 19th and 20th Centuries, pl. 12, p. 23.
• A Qianlong bowl of similar design, in The Percival David Foundation of Chinese Art now at The British Museum, is illustrated by Margaret Medley in The World's Great Collections, Oriental Ceramics, vol.6, no. 273, collection no. 888. • The magpie, xique, is known as the bird of joy or happiness and is especially used as a decorative motif at weddings, as its name is a pun for 'joy' or 'happiness', xi. Twelve magpies symbolize shishi baoxi, happiness for all hours of the day.
MARCHANT http://www.marchantiques.com