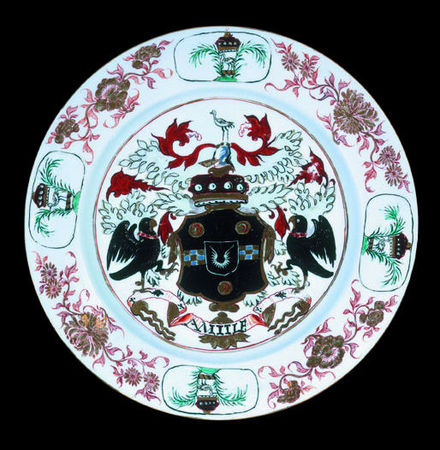 A Chinese porcelain large armorial dish. Kangxi-Yongzheng, Circa 1720-30. Photo Marchant
painted in the centre with the arms of Thomas Pitt of Blandford, Baron Londonderry, with those of his wife Lady Frances Ridgeway in pretence above a banderol inscribed with the motto AMITIE, the rim with the stork crest beneath a baron`s coronet between fronds, within four oval panels alternating with gold and iron-red floral sprays, the underside with lingzhi mark within a double circle in underglaze-blue. 13 5/8 inches, 34.6cm diameter.
· Formerly in the Khalil Rizk collection.

· Formerly in the Phil B. Cooke Collection, England, no.110.

· Formerly sold by Herloom & Howard Limited, London, 03-12-82.

· Exhibited in the San Francisco, Fall Antique Show, 1995.

· A large dish from this service is illustrated by David S. Howard in A Tale of Three Cities: Canton, Shanghai and Hong Kong, 1997, p.102, no.119. A plate is illustrated by David S. Howard in Chinese Armorial Porcelain, London, 1974, p.184, no.B9; another from the collection of Mr & Mrs Rafi Y. Mottahedeh is illustrated by David S. Howard and John Ayers in China for the West, Vol. II, p.406, no.405.