A Rare Peachbloom-Type Baluster Vase, Meiping. Yongzheng Six-Character Mark In Underglaze Blue Within Double-Circles And Of The Period (1723-1735). Estimate: $70,000-90,000. Photo: Christie's Images Ltd 2012.
NEW YORK, NY.- On September 13-14, Christie's New York will present Fine Chinese Ceramics and Works of Art, comprising over 500 lots and featuring a broad range of art and objects—jade, porcelain, ceramics, snuff bottles, and archaic and later bronzes. Highlighting the sale is a superb green jade brush pot, Qianlong period (1736-1795), (estimate: $500,000-800,000), masterfully carved with a scene of the Six Scholars of Zhuxi that elegantly unfolds around the brush pot like a scroll painting. The spectacular brush pot was formerly in the collection of the eminent collector, Heber R. Bishop (1840-1902), whose treasured jades now form the cornerstone of The Metropolitan Museum of Art's collection. With estimates ranging from $5,000 to $800,000, the sale is expected to realize over $15 million.
Highlights include: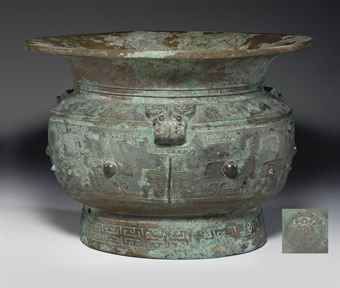 A Very Rare And Important Large Archaic Bronze Ritual Wine Vessel, Zun. Late Shang dynasty, 12th- 11th century BC. Estimate: $600,000-800,000. Photo: Christie's Images Ltd 2012.
The heavily cast vessel is raised on a tall, flared foot encircled by a band of scroll pattern and flat-cast around the compressed globular body with large taotie masks formed by the bodies of confronted and addorsed birds with pronounced eyes, which are divided and separated by raised flanges and reserved on a leiwen ground. The taotie are positioned below bovine heads cast in high relief on the shoulder between pairs of kui dragons and above a 'toothed' band, possibly representing a mouth. The broad neck is encircled by a double bow-string band below the thick, widely flared mouth. The base of the interior is cast with a turtle centered by a coiled dragon and encircled by two simplified dragons biting each other's tail. The patina is reddish-brown and with areas of green encrustation. 9 5/8 in. (24.5 cm.) high, 14 in. (35.5 cm.) across, Japanese wood box with inscription by Sugimura Yozo (1900-1978), dated 1966.
Provenance: Count Inoue Kaoru (1836-1915) Collection, Japan.
Tokyo Bijutsu Club, Japan, 7-8 November 1925, lot 184.
Exhibited: Kobijutsu Meihin Ten (The Exhibition of Antique Masterpieces), Ishikawa Prefectural Museum of Art, 13-28 May 1967, no. 21, in celebration of the Kanazawa Bijutsu Club 50th anniversary.
Notes: This magnificent bronze vessel was once in the collection of Count Inoue Kaoru (1836-1915), born Inoue Yakichi in Hagi (Choshu). Inoue was one of the most important and influential Japanese statesman during the Meiji period (1868-1912). In his early years he promoted the defense of Japan from foreign influx, but as time progressed he became a strong proponent of the 'westernization' of Japan, including the reorganization of government finance policies and practices. He was also one of the 'Choshu Five' who traveled to London in 1863 to study western ideas and bring them back to Japan for implementation. In 1883, he was a primary supporter of the construction of the Rokumeikan, the famous yet controversial building which became a symbol of the west in Japan.

In the 1860s, Inoue played a vital role in the formation of the Sacho Alliance, a group organized with the goal of overthrowing the ruling Tokugawa Shogunate. After the Meiji Restoration in 1868, Inoue became actively involved in both business and politics, and rose quickly through the ranks, holding such illustrious posts as Senior Vice Minister of Finance, Minister of Infrastructure, and most notably Minister of Foreign Affairs, to which he was appointed to in 1885, shortly after having been given the title of Count one year earlier. Although he retired from politics in 1898, Inoue continued to remain a powerful figurehead amongst Japan's elite until his death in 1915 in Shizuoka Prefecture.

Count Inoue amassed one of the largest collections of artworks during the Meiji period, and had a pronounced passion for tea ceremeny objects and ancient Chinese bronzes, such as the present magnificent zun. R.W. Bagley, in Shang Ritual Bronzes in the Arthur M. Sackler Collections, The Arthur M. Sackler Foundation, 1987, p. 265, discusses the development of thezun vessel shape and cites that it displaced the older lei shape, and was one of the more popular vessel types during the first half of the Anyang period. The various examples vary not only in the proportions of their three sections (body, neck and foot), but also in the decoration.

One of the most remarkable characteristics of this exceptional zun is its unusually broad proportions, which endow the vessel with an impressive sense of weight and monumentality. This is further enhanced by the unusually thick casting of the flared rim. A zun of somewhat similar broad proportions, but with more angled shoulders, in the Shanghai Museum, is illustrated by Chen Peifen, "Animal Mask Designs on Shang and Zhou Bronzes," Chinese Bronzes, Selected Articles from Orientations 1983-2000, Hong Kong, 2001, p. 145, fig. 3, where it is stated that the vessel dates to early in the period, when the Shang capital moved to Yinxu, Anyang. Another late Shang zun, of similarly broad proportions and with a thick mouth rim, but raised on a taller splayed foot, is illustrated in Zhongguo qingtongqi quanji - 13 - Ba Shu, Beijing, 1994, p. 80, no. 89.

Another notable feature of the present zun is the image of a turtle centered by a coiled dragon and encircled by two dragons biting each other's tail which is cast on the base of the interior. Though exceptionally rare, similar images of turtles appear on the interior of vessels of various shapes from the late Shang through the early Eastern Zhou period. See, for example, two pou of late Shang date, cast with similar turtles on the interior, illustrated by R.W. Bagley, Shang Ritual Bronzes in the Arthur M. Sackler Collections, op. cit., p. 323, fig. 53.2 (in the Musée Guimet, Paris, which is thought to be from Wuguancun) and p. 336, fig. 57.2 (in the British Museum). Similar turtles may also be seen on the interiors of broad gui vessels, such as the Shang example from Dayangzhou, Xingang County, Jiangxi province (see, Shang dai Jiangnan(Treasures of Shang Dynasty), Beijing, pp. 62-7), and an early Spring and Autumn gui from Shangcaolou, Changxing, Zhejiang province (see Zhongguo qingtongqi quanji - 11 - Dong Zhou (5), Beijing, 1997, pp. 10-1, figs. 10-1). Unlike the turtle cast in the present zun, which is centered by a coiled dragon biting its tail, the turtles on the other aforementioned vessels are not encircled by dragons and are centered by whorl medallions.
A Technical Examination Report is available upon request.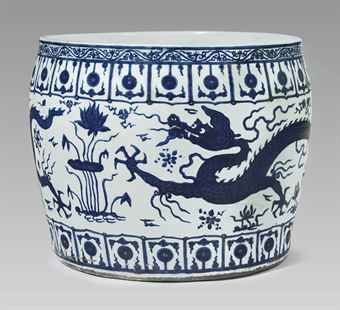 A Rare Massive Blue And White Fish Jar. Jiajing Six-Character Mark In Underglaze Blue In A Line And Of The Period (1522-1566). Estimate: $200,000-300,000. Photo: Christie's Images Ltd 2012.
The heavily potted jar has a deep rounded body that tapers towards the foot, and is boldly decorated in deep underglaze blue with two scaly, five-clawed dragons separated by large lotus plants as they stride amidst smaller lotus plants and water weeds between lappet borders. A narrow band of classic scroll encircles the slightly tapered neck, and there are two small holes in the shoulder. The reign mark is written in a rectangular cartouche pendent from the upper lappet border. 27 1/8 in. (69 cm.) diam.
Provenance: Estate of Flora Whitney Miller; Sotheby's New York, 11 April 1987, lot 198.
Notes: A Jiajing-marked fish jar of this massive size was sold in these rooms, 16 October 2001, lot 375, and was illustrated by A. du Boulay in Christie's Pictorial History of Chinese Ceramcis, New Jersey, 1984, p. 132, no. 2. Another is illustrated by R. Krahl, Chinese Ceramics in the Topkapi Saray Museum, London, 1986, vol. II, p. 668, no. 1062. See, also, a closely related jar of this shape and size, decorated with phoenixes, instead of dragons, between similar decorative borders, now in the Kunstindustrimuseet, Copenhagen, illustrated by D. Lion-Goldschmidt,Ming Porcelain, New York, 1978, p. 173, pl. 154 and 154a (detail), where the author describes the discs centering each petal lappet as 'suggesting the studs holding the skin of a drum'. However, it is also possible that these large discs could represent either solar or lunar discs. In view of the fact that the sun represents the primary male principle, yang, with which the Jiajing emperor was greatly preoccupied, it seems probable that the reference is to the sun. Similar borders can also be seen on another similarly marked jar of the same shape, but smaller size (48.5 cm. diameter), decorated around the sides with playful buddhistic lions separated by brocade balls trailing long, meandering ribbons, which was excavated from a tomb at Hongpailou, Chengdu city, Sichuan province, and is illustrated by Zhang Bai in Complete Collection of Ceramic Art Unearthed in China, vol. 10, Beijing, 2007, no. 182.

A massive Jiajing-marked blue and white jar decorated with two dragons chasing pearls amidst cruciform clouds, and with bands of lotus petals encircling the mouth and base, was found placed in front of the altar in the Dingling tomb of the Wanli emperor (d. 1620), as seen illustrated in The Imperial Tomb of the Ming Dynasty, Ding Ling, Beijing, 1990, no. 89. This dragon jar is discussed by Yue Nan & Tang Zhi in The Dead Suffered Too, The Excavation of a Ming Tomb, Beijing, 1996, p. 156, where the authors note that it had been filled with sesame oil, on the surface of which was placed a bronze ladle with a wick. As the wick had been burned, it has been suggested the lamp had been lit at the time of burial, to serve as an "everlasting light." This magnificent vessel was displayed at Christie's New York, in March-April 2000, as part of the exhibition, Treasures from Ancient Beijing, jointly presented by Christie's Education and the Beijing Cultural Relics Bureau, as exhibit 18.

Most large fish bowls of this period, decorated with dragons, are low and broad without the lappet borders, rather than the present deep, drum shape. The large size of all these fish jars made them particularly difficult to manufacture. See R.L. Hobson, The Wares of the Ming Dynasty, London, 1923, pp. 19 and 110, where it is mentioned that this type of ware required up to nine days to fire, and that the low rate of success often drove the imperial potters to despair.
This vessel is exceedingly rare since the powerful five-clawed imperial dragons are depicted in a lotus pond. Dragons are usually shown amongst clouds or waves, or occasionally floral scrolls. To depict imperial dragons amongst growing lotus is very unusual, and it seems that this iconography may be linked to the Jiajing emperor's desperate desire for sons. One of the words for lotus is lian, which is a homophone for another word meaning 'continuous' or 'successive.' In turn, this is associated with the continuous birth of sons. The lotus is also seen as heralding the birth of sons because it is one of the few plants in which the seed pod is already visible when the flower begins to open. The ordering of such a large vessel would certainly have been significant, since pieces of this size had to be fired in special kilns and were exorbitantly expensive to make. The grandeur of this jar, and the choice of decorative motifs, suggest that it may have been ordered specially by an emperor who was greatly concerned to ensure that he would be succeeded by a suitable heir.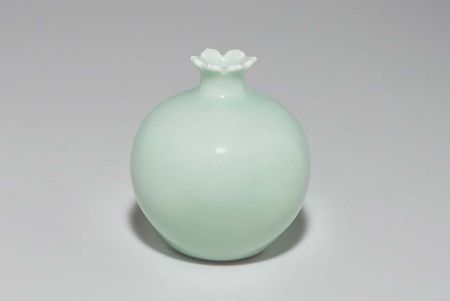 A Rare Celadon-Glazed Pomegranate-Form Vase. Qianlong Seal Mark In Underglaze Blue And Of The Period (1736-1795). Estimate: $40,000-60,000. Photo: Christie's Images Ltd 2012.
The small vase is finely potted with a globular body rising to a waisted neck that supports a flared mouth in the form of six barbed sepals, and is covered overall with a lustrous sea-green glaze. 4 1/8 in. (10.5 cm.) diam., stand
Exhibited: Honolulu Academy of Arts, Honlulu, Asian Orientations: Treasures from Honolulu's Oriental Art Society, 11 July - 25 August 1985, no. 26.
Notes: Fruit and flowers served as inspiration to the Qing-dynasty potters, with the natural shapes translated into both porcelain shapes and other decorations laden with hidden meanings. A well-known emblem of fertility and numerous progeny, the pomegranate is also a pun on the character zi, which means "seed" or "offspring." Introduced to China in the Tang dynasty, the pomegranate appears as a decorative motif as prolifically as the peach, the emblem of longevity, but is perhaps better suited in proportion and shape to serve as a small vase such as the present piece.

This attractive and easy-to-handle form appears to have been produced with a variety of well-applied monochrome glazes in the Yongzheng reign. A similar, celadon-glazed example, with a Yongzheng mark, is in the National Palace Museum, Taipei, and is illustrated in Catalog of the Special Exhibition of K'ang-Hsi, Yung-Cheng and Ch'ien-Lung Porcelain Ware from the Ch'ing Dynasty in the National Palace Museum, 1986, p. 93, no. 62. A tea-dust glazed example with a Yongzheng mark, in the Nanjing Museum, is illustrated in The Official Kiln Porcelain of the Qing Dynasty, Shanghai, 2003, p. 206. Another in the Musée Guimet, Paris, is illustrated inOriental Ceramics, The World's Great Collections, Vol. 7, Tokyo, 1981, no. 47. A Yongzheng-marked example covered in a flambé glaze, in the National Museum of China, Beijing, is illustrated in Zhongguo guojia bowuguan guancang wenwu yanjiu congshu - ciqi juan - Qing dai, Shanghai, 2007, p. 95, no. 61, and bears a Yongzheng mark.
A Rare Peachbloom-Type Baluster Vase, Meiping. Yongzheng Six-Character Mark In Underglaze Blue Within Double-Circles And Of The Period (1723-1735). Estimate: $70,000-90,000. Photo: Christie's Images Ltd 2012.
The vase is potted with high, rounded shoulder below a short, waisted neck, and tapers elegantly towards the slightly flared foot. It is covered in a glaze of subdued, mottled, slightly greyish crushed strawberry-red color, and the rim and interior are white. 9 1/8 in. (23.2 cm.) high
Provenance: Mr. and Mrs. H. O. Havemeyer, New York, New York (1847-1907). Adaline Havemeyer Frelinghuysen (1884-1963), Morristown, New Jersey, and thence by descent to the present ownner, Property from the Collection of Peter H.B. Frelinghuysen, Jr. (1916-2011).
Notes: The glaze on the present vase is reminiscent of the peachbloom glaze that was first developed in the Kangxi period and used on eight vessel shapes referred to as the badama, or 'Eight Great Numbers.' See S. Valenstein, A Handbook of Chinese Ceramics, New York, 1989, nos. 231-238, p. 237, for a complete set in the Metropolitan Museum of Art, New York. While favored during the Kangxi reign, small peachbloom-glazed wares of Yongzheng date, such as the current vase, are quite rare. A meiping of similar size, covered in a glaze described as peachbloom-type, with Yongzheng mark, and of the period, was sold in our Hong Kong rooms, 30 May 2006, lot 1347.

Like other business tycoons turned art collectors in the late nineteenth century, such as Benjamin Altman, J.P. Morgan and William Walters, H.O. Havemeyer amassed a large collection of Asian art and ceramics, and "responded particularly to craftsmanship and form." (J. Meech et al., Splendid Legacy, The Havemeyer Collection, New York, 1993, p. 147). Peachbloom-glazed wares were so prized by American collectors at the time that a record price for one was reportedly achieved in 1886, when Baltimore collector William Walters bought a vase at the American Art Association in New York for $18,000. Havemeyer collected 36 peachbloom-glazed porcelains, at least six of which are now in the Metropolitan Museum of Art (ibid., pl. 141).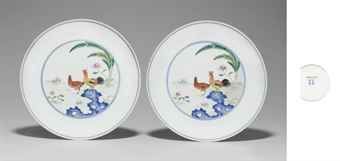 A Rare Pair Of Famille Rose `Chicken' Dishes. Caihua Tang Zhi Four-Character Hall Marks In Underglaze Blue With Double Squares, Qianlong-Jiajing Period (1736-1820). Estimate: $40,000-60,000. Photo: Christie's Images Ltd 2012

Each dish has shallow rounded sides and is decorated in famille rose enamels, of rich tone, on the interior with a scene of a cockerel standing on blue rockwork beside a hen, and on the exterior with two related repeated scenes where the cockerel similarly stands on blue rocks as he watches over hens and chicks in a setting of roses, bamboo, asters and narcissus. 8½ in. (21.5 cm.) diam. (2)
Provenance: Kitchener Collection.
Sotheby's London, 2-3 December 1974, lot 548.
Property from the Collection of Peter H.B. Frelinghuysen, Jr.
Notes: The hall mark, Caihuatang zhi, may be translated as 'Made for the Hall of Many Coloured Flowers'. This Hall appears to have been established in the Forbidden City in Beijing during the reign of the Qianlong Emperor, and continued to have been used by a number of his successors. A pair of bowls of this pattern, and with this same hall mark, from the collection of Mr. and Mrs. James E. Breece III, was sold in these rooms, 18 September 2003, lot 369.

This hall mark is found on pieces with various types of decoration. A dish dated to the Qianlong period, decorated with a lamaist design, and the mark in iron red, is illustrated by M. Wilson inRare Marks on Chinese Ceramics, Percival David Foundation/Victoria and Albert Museum, London, 1998, pp. 34-5, no. 7; and the mark, alone, which like the present mark, is in underglaze blue within a double square, is illustrated by Wang Qingzheng (ed.) in Underglaze Blue and Red, Shanghai, 1987, p. 206, fig. 22, where it is ascribed to the Qianlong period. As Wilson points out, some scholars have suggested that the vessels bearing this mark are imperial wares from the Qianlong period, while others ascribe Jiaqing or Daoguang dates, but Wilson suggests that porcelains bearing this mark should be dated on the basis of their form and decoration.

The decoration on these dishes is based on the famous doucai 'chicken' cups made during the Chenghua period (1465-1487), which were very accurately copied during the Kangxi reign (1662-1722). See R. Scott, Imperial Taste - Chinese Ceramics from the Percival David Foundation, San Francisco, 1989, p. 73, no. 42, for the Chenghua version, and p. 75, no. 44, for the Kangxi version. The current dishes have taken the essential theme and adapted it in thefamille rose or fencai palette.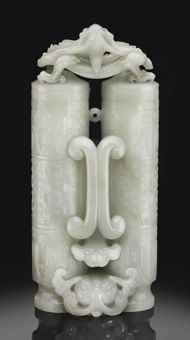 A Finely Carved Pale Greenish-White Jade `Champion' Vase And Cover. Qianlong Period (1736-1795). Estimate: $50,000-70,000. Photo: Christie's Images Ltd 2012
The vessel is in the form of two tall cylinders carved in low relief around the sides with bands of archaistic motifs and joined by the body of a phoenix with spread wings standing on the head of a recumbent, winged mythical beast. The hindquarters of the beast, and tail of the phoenix emerge between the cylinders on the reverse below two conjoined elongated C-scrolls that may form a handle. The vessel is fitted with a double cover surmounted by a coiled, crouching dragon. 8¼ in. (21 cm.) high
Provenance: Heber Reginald Bishop (1840 - 1902), and thence by descent within the family.
Notes: This type of vase is often referred to as a 'champion vase', an appellation translated from the Chinese, ying (eagle) and xiong (bear), describing the two beasts represented, but also forming the pun on the word for 'champion' or 'hero'. Alternately, the vessel is also known as a 'nuptial cup', he jing bei, as it is believed, that during the Ming dynasty, it was used as a ritual wine vessel during the wedding ceremony. The double cylinders were filled with wine to be drunk by the bride and groom as part of the marriage ceremony.

Several vessels of this type, dated to the Qialong period, have been published; one of white jade, in the Victoria and Albert Museum, is illustrated by J. Rawson, Chinese Jade throughout the ages, London, 1975, no. 442; another very similar to that example in the Palace Museum, Beijing, is illustrated in Zhongguo Yuqi Quanji - 6 - Qing, Hebei, 1991, pl. 244. A spinach-green jade example bearing a da Qing Qianlong fanggu mark, is illustrated in The Complete Collection of Treasures of the Palace Museum - 42 - Jadeware (III), Hong Kong 1995, pp. 184-5, pl. 151. See, also, the white jade example sold in our Hong Kong rooms, 1 June 2011, lot 3621.
Christie's. Fine Chinese Ceramics and Works of Art Part I. 13 - 14 September 2012, New York, Rockefeller Plaza