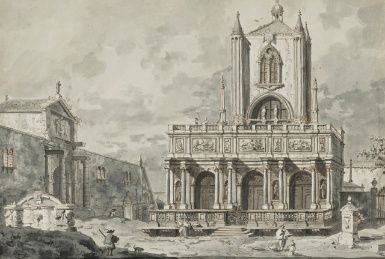 Giovanni Antonio Canal, Called Canaletto (Venice 1697 – 1768), Capriccio vith the Loggetta of Sansovino as Portico of an Imaginary Gothic Tower. Photo Sotheby's
pen and brown ink and gray washes over black chalk, within brown ink framing lines; 12 1/4 by 18 1/4 in. 311 by 464 mm - Estimate 300,000-500,000 USD
PROVENANCE: Duc de Talleyrand
With Durlacher Brothers, New York, 1954
LITTERATURE: W.G. Constable, Canaletto, Oxford, 1962, vol. II, no. 761, reproduced vol. I, pl. 144, fig. 761
W.G. Constable and J.G. Links, Canaletto, Oxford, vol. II, no. 761, reproduced vol. I, pl. 144, fig. 761
W.G Constable and J.G. Links, Canaletto, Oxford, 1989, vol. II, no 761, reproduced vol. I, pl. 144, fig. 761
NOTE: This capriccio includes a representation of the famous Loggetta of Sansovino with the bronze gates made by Antonio Gai in 1735-7, which according to Constable establishes a terminus post quem for the execution of the drawing.
Constable and Links also point out, though, that the free handling and the style of the drawing, together with theintroduction of some Gothic elements, suggest a considerable later date, possibly after Canaletto's visit to England.
Furthermore, the Loggettais shown with an extension to the attic story which was only constructed in 1750, four years after Canaletto had left Venice for England. Canaletto was probably in Venice on a visit in 1750 and again in 1753, before his final return from England.
Despite its references to real buildings, this capriccio is an elaborate imaginary composition: behind the Loggetta is a Gothic tower with pinnacles and large and detailed windows and a small cupola, while to the right a low wall leads, via a gate, to other buildings at a distance. To the left of the Loggetta, a long building with a ruined pillared portico leads to a glimpse of the lagoon. In the foreground to the left a fountain with classical elements is strongly lit, contrasting with the rather dark immediate foreground.
Another autograph version of the composition, with several differences, was formerly in the Dyce Collection and is now in the Victoria and Albert Museum.(1)
Although similar in design, style and dating, that drawing includes fewer details, and overall appears less elaborate and not so rich in the execution and use of wash: there the Loggetta has no free-standing columns or statues in the niches and the balustrades have also been simplified; the Gothic tower has differently designed pinnacles and windows, and no cupola; the building to the left has a higher central entrance and different fenestration; the figures differ in character and arrangement. It is interesting to note how Canaletto, in his maturity, succeeded in creating these imaginary compositions almost like stage designs, including and mixing real buildings and other known architectural elements with fantastical ones. The present sheet demonstrates Canaletto's ability as a draftsman combined with a dramatic use of gray wash and strong variations between light and shadow.
(1) W.G. Constable, Canaletto, Oxford, 1962, vol. II, no. 762, reproduced vol. II, pl. 144, fig. 762
Sotheby's. Property from the Estate of Brooke Astor. New York | 24 sept. 2012 www.sothebys.com