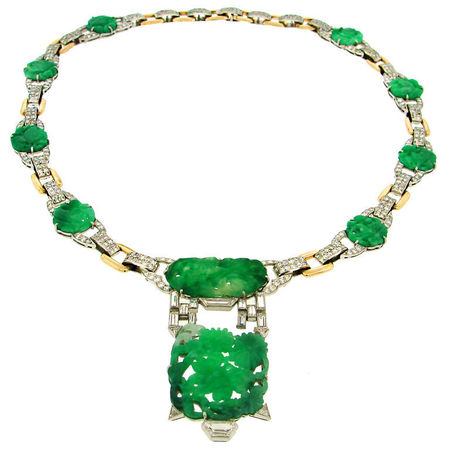 J.E.Caldwell & Co. Carved Jade, Diamond, Platinum & Gold Necklace. USA. Circa 1920's. Photo by Nadine Krakov Collection
Elegant Art Deco necklace created by J.E. Caldwell & Co. in the 1920's. It features finest detailed carving on green jade medallions accentuated with baguette and single cut diamonds. Setting is made of platinum and yellow gold.

The center part measures 2" vertically and 7/8" horizontally. It consists of a smaller top jade piece which is 1/2" by 7/8" and a larger bottom one which is 1" by 7/8". The round jade medallions are 3/8" in diameter.
Nadine Krakov Collection. 191 S. Beverly Drive, Beverly Hills, CA, 90212 - Phone: 310 860 9991 - E-Mail: info@nadinek.com