Look closely at a work of art and you are likely to uncover clues to a fascinating past and present: an object's intimate connection to people, places, institutions, and cultures.

This exhibition takes four objects from the Museum's decorative arts collection—a silver fountain, a wall light, a side chair, and a lidded bowl—and encourages you to explore their "lives" through an interactive presentation.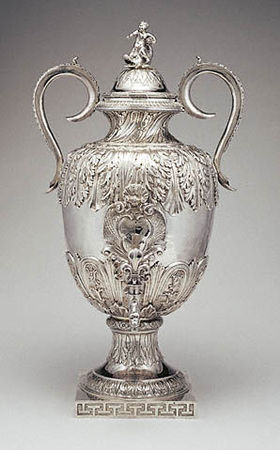 Fountain. Possibly by Jean Leroy (French, Paris, 1661-1663; changes 1698 and 1758-62). Silver. H: 2 ft. 1 5/8 in. x W: 1 ft. 2 1/8 in. x D: 1 ft. 2 1/4 in. 82.DG.17 ©J. Paul Getty Trust
This fountain, although altered, is a rare survivor of early French silver. The fountain would have held water and stood on a sideboard, displayed with other pieces of ceremonial silver. The servants would have poured water from it to wash utensils between the courses of a meal.

The fountain must have arrived in England from France before 1698, because an English silversmith made a copy of it in that year. He also created a silver basin for each of the fountains. By 1750, Nathanial Curzon, first Baron Scarsdale, owned the group of two fountains and their basins. In that year, he married Caroline Colyear and had the fountain's cartouche engraved with both of their arms. Until the 1940s, these vessels stood in an alcove in the dining room of the Scarsdales' great home, Kedleston Hall, in Derbyshire, England, designed by Robert Adam.

Very little French silver has survived from the late 1600s because almost all of it was melted down by 1701 at the order of Louis XIV. The silver bullion was used to replenish the French royal treasury, which had been nearly bankrupted by the king's constant wars. This vessel survived because it left France soon after it was made.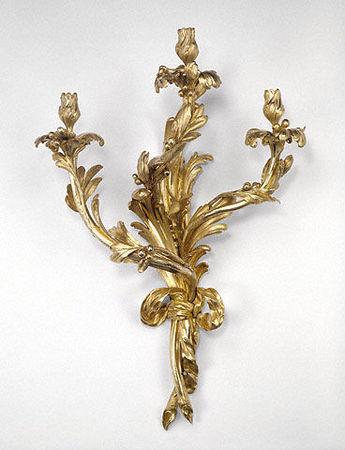 Four Wall Lights (Two Pairs). François-Thomas Germain, silversmith; after designs by Pierre Contant d'Ivry, architect. French, Paris, 1756, Gilt bronze. H: 91.5 cm; W: 53.0 cm; D: 35.0 cm. 81.DF.96 ©J. Paul Getty Trust
Modeled in the form of three laurel branches tied with a ribbon, these massive wall lights with their detailed chasing and burnishing reveal the extraordinary skill of their maker, a silversmith to Louis XV, king of France. Each wall light is slightly different from the others.

These four wall lights are among eight made in 1756 for the newly redecorated interiors of the famous Parisian palace, the Palais-Royal, which was the residence of the king's cousin, Louis-Philippe, duc d'Orléans. Shortly after inheriting the building in 1752, he commissioned the architect Pierre Contant d'Ivry to renovate the main rooms. Engravings of these rooms, showing the wall lights in place, were reproduced in Diderot's Encyclopédie, one of the principal works of the Age of Enlightenment. An inscription on the Getty Museum's drawing for one of these wall lights explains that it should hang above the fireplace.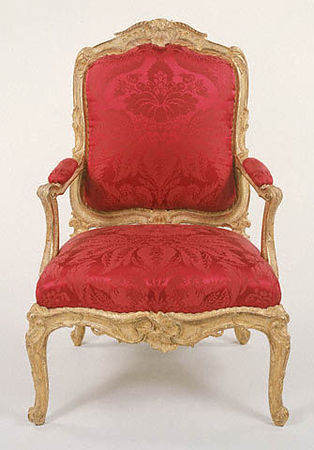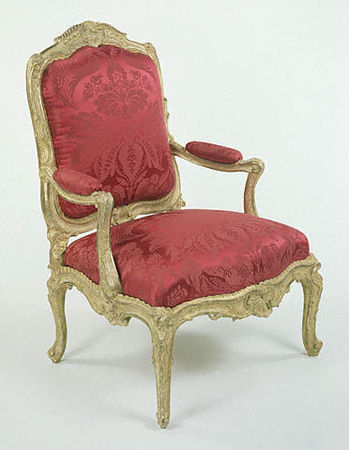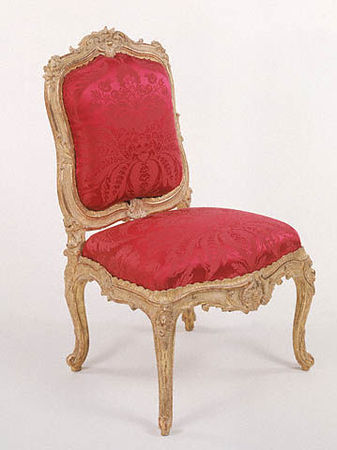 Two Armchairs and Two Side Chairs. Unknown. French, Paris, about 1735 - 1740. Gilded beech; modern silk upholstery. H: 3 ft. 7 1/2 in.; W: 2 ft. 6 1/8 in.; D: 2 ft. 8 7/8 in. 82.DA.95. ©J. Paul Getty Trust
Using an upholstery method known as à chassis, the chair maker made the comfortably padded backs, seats, and arms of these chairs easily removable. The servants of the chairs' owner would have changed the fabric on the cushions with the seasons of the year, using a heavy damask or tapestry in the winter and replacing it with a lighter colored silk in the spring. A brief announcement in the newspaper informed the fashion-conscious inhabitants of 1700s Paris when to change their furniture coverings. On June 11, 1759, for example, the weekly newspaper announced that the winter furniture coverings in the king's apartments at Versailles had just been replaced by the summer ones.

Scholars do not know the maker of these chairs, as they were made in the 1730s, before the practice of stamping furniture with the name of the carver became a requirement of the guild. Although the chairs have modern silk upholstery, the original gilded surface of the wood has survived. It was preserved under numerous layers of later gilding, which were laboriously removed by conservators.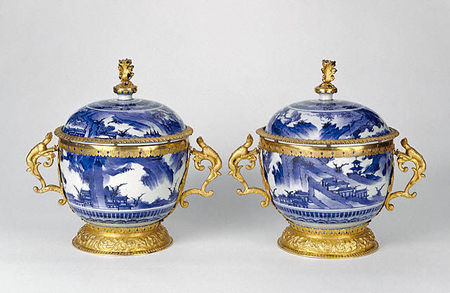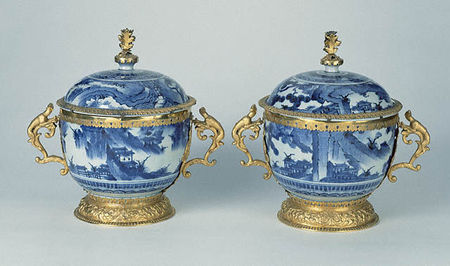 Pair of Lidded Bowls. Mounts attributed to Wolfgang Howzer. Porcelain: Japanese, about 1650; Mounts: English, about 1670. Hard-paste porcelain, underglaze blue decoration; gilt metal mounts. 85.DI.178 ©J. Paul Getty Trust
In the early 1700s, English author Daniel Defoe complained that "Queen Mary introduced the custom...of furnishing houses with Chinaware...piling the China upon the Tops of Cabinets, Scritoires, and every Chymney Piece." The greater availability of Chinese and Japanese porcelain from the mid-1600s onwards increased interest in this exotic material. Nobles throughout Europe collected porcelain and created "China Cabinets." In such rooms, walls were completely decorated with ceramics, displayed on brackets, mantelpieces, shelves, and sometimes even on the floor.

Although some members of the British aristocracy collected mounted porcelain, they did not assemble the same quantities as the French did. In 1678 one English duchess took her collection of porcelain to France, where it fetched much higher prices at a sale. This pair of lidded bowls was assembled in London, perhaps for a sophisticated member of the court of Charles II. Recently returned from France, he had developed a taste for these luxurious objects there.