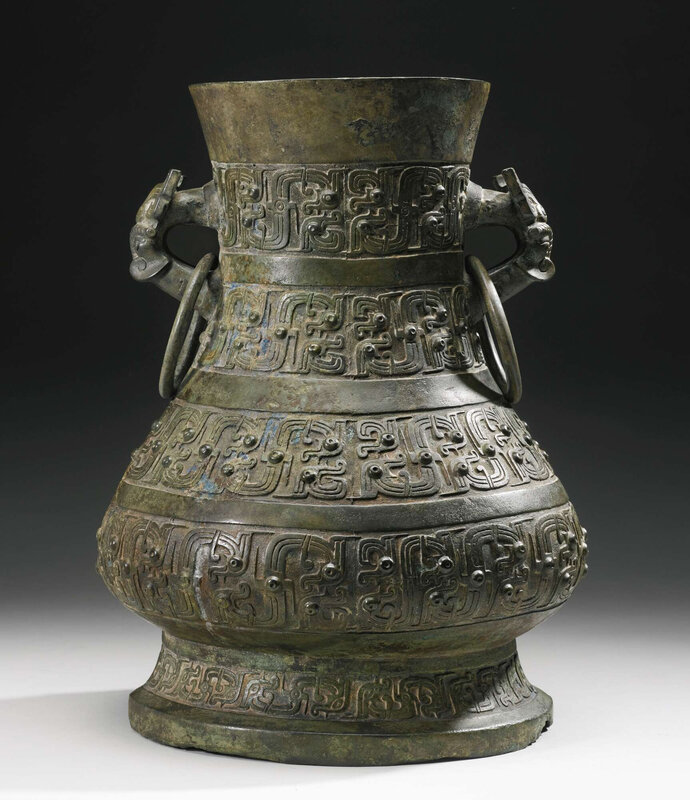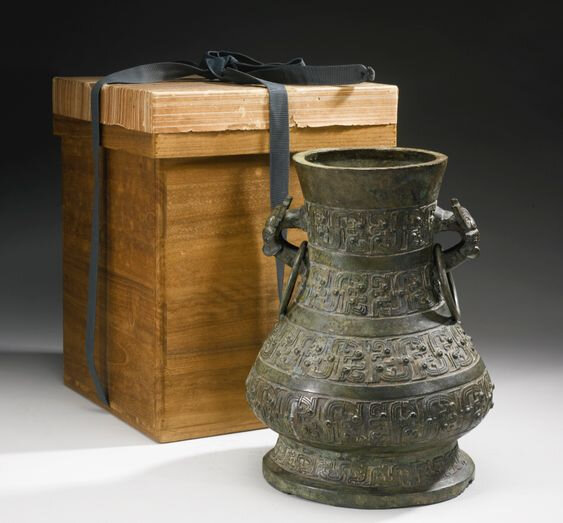 Lot 168. An important archaic bronze wine vessel (hu), Eastern Zhou dynasty, 8th-7th century BC. Height 18 1/2 in., 47 cm. Estimate 300,000-500,000 USD. Lot sold 1,538,500 USD. Photo Sotheby's.
of pear-shape, crisply cast with five bands of interlocking dragons, their bodies defined with hooks, angular S- curves and raised beaded elements, the registers divided by plain bands, flanked on each side of the neck by bold large-horned taotie masks in relief issuing loop handles with large pendent rings, a partially obscured eighteen-character inscription on the interior of the neck, Japanese box (2).
Provenance: C.T. Loo and Co., 1924.
Acquired from the above during the Taisho Period (1912-1926) and thence by descent.
Literature: Tch'ou To-Yi (Zhu Deyi), Bronzes Antiques de La Chine Appartenant à C.T. Loo et Cie, Paris, 1924, pl XV.
Jung Kêng (Rong Geng), Shang Zhou yiqi tongkao (A General Survey of Bronzes of the Shang and Zhou Dynasties), Yenching Journal of Chinese Studies, No. 17, Beijing, 1941, pl. 732, p. 387.
Note: The inscription may be translated as: Marquis of Chen made this hu-vessel to pray for longevity. His sons and grandsons will forever treasure it and worship it.
This bronze hu was first published in Bronzes Antiques de la Chine Apartenant à C. T. Loo et Cie, Paris in 1924. The original catalogue was written by Tch'ou To-Yi (Zhu Deyi, 1871-1942), with the preface by the French sinologist Paul Pelliot (1878-1945). Zhu was a private secretary of Duan Fang (1861-1911), one of the most important collectors of the late Qing dynasty, and was instrumental in compiling the catalogue of Duan's collection of bronzes, Taozhai jijin lu (Records of the Auspicious Bronzes from the Tao Studio), published in 1908. Duan Fang assembled probably the most significant private collection of antiquities of his time, which included important bronzes such as the Altar Set and Mao Gong ding, unearthed in Baoji in the 19th century, and now in the Metropolitan Museum of Art, New York, and the Palace Museum, Taipei. Duan Fang was assassinated while on official duty in Sichuan in 1911. After his death, his family tried to sell the entire collection to the newly established Republican government, but this never materialized. Later, the collection was dispersed among private collectors and dealers. C.T. Loo and Yamanaka were among those who bought a large number of objects from Duan Fang's collection and sold them to Japanese and Western collectors and museums.
The first two lines of the inscription are heavily worn, but according to Jung Kêng's (Rong Geng) reconstruction, the vessel was made by the Marquis of Chen (Chen Hou). The state of Chen was one of the influential states in the Zhou dynasty; their marquises married into the Zhou royal family in the early Western Zhou period, and their territory covered the eastern part of Henan and Anhui. In the Spring and Autumn period, Chen was a close ally to the Qi state (modern Shandong), and later to the Jin state (modern Shanxi), and the Chu state (modern southern Henan and Hubei). Bronzes of the Chen state thus show stylistic influences from both the South and the North. The state of Chen finally lost its independence to the Chu state in 478 BC. There are a few surviving bronzes that bear the name of the Marquis of Chen, and one bronze hu-vessel unearthed in Feicheng, Shandong, in 1963, was part of his daughter's dowry.
The present impressive hu is a fine example of the creative style of bronze vessels first developed in the Western Zhou period which continued to become increasingly elaborate in the Eastern Zhou and Spring and Autumn periods. The attractive three-dimensional design band decoration of crisply cast, coiled dragons with protruding eyes is unusual, although it matches that seen on a fou, in the Sackler collection, illustrated by Jenny So, Eastern Zhou Ritual Bronzes from the Arthur M. Sackler Collections, vol. III, Washington, D.C., 1995, p. 206, no. 31. The motif seen here represents a new approach to decoration by the early Eastern Zhou casters, whose creativity stimulated the development of continuous horizontal registers of ornamentation. The highly stylized dragons exude vitality and force, while being considerably more sculptural than their predecessors which had origins in Western Zhou period bronze designs in interlace and openwork. Closely related design band decoration can also be found on a ding, attributed to the early Spring and Autumn period, in the Yantai City Museum, Shandong province, illustrated in Zhongguo qingtongqi quanji, vol. 9, Beijing, 1997, pl. 2, and on another lei, in the Hebei Provincial Museum, included ibid., pl. 128.
Sotheby's. Fine Chinese Ceramics & Works of Art, New York, 11 september 2012